The Evolution of MICROspikes® with Product Designer Chris Bunch
The Evolution of MICROspikes® with Product Designer Chris Bunch 
We join Chris in the Kahtoola design lab for a look at the growth of our most popular and award-winning traction device…
We believe humans are adventurers at heart. Driven to explore new places and take on new challenges. That drive has pushed us to all corners of the earth—to the top of mountains, across oceans and into space. It hasn't been easy, but each time we're faced with an obstacle, we innovate. And with each innovation, our adventures become safer and more accessible. Innovation is our secret weapon, and our world would be very small without it.
Innovation is something we take very seriously at Kahtoola, and that commitment is evident in our flagship MICROspikes® footwear traction device. Now on their fourth adaptation, we've been continually improving and rigorously testing the MICROspikes® design since they debuted back in 2007.
That design-focused evolution has produced an award-winning product that we're immensely proud of. In 2012, in their original form, MICROspikes® won Backpacker Magazine's Editor's Choice Award. Then in 2018, in their current form, they won the magazine's Hall of Fame Award—a nod to MICROspikes®' ever-improving durability and functionality.
MICROspikes® have gone through a lot of changes since 2007, and we're confident that each one has made the outdoors more accessible and rewarding for those that use them. So we'd like to take you with us on a look back at the evolution of MICROspikes®. 
For the journey, we've enlisted Kahtoola product designer Chris Bunch as our guide. Chris has been working tirelessly to improve our MICROspikes® footwear traction since he first set out to update their original design. 
Now, Chris is ready to invite you into the Kahtoola design lab for a behind-the-scenes look at our team's dedication to design. He dives deep into why he does what he does, and how he and the Kahtoola team produce, what we believe, are the most thoughtfully designed and cutting edge traction products on the market.
Let's meet Chris…
You're a product designer at Kahtoola. How would you describe your role here?
My main role ranges from opportunity identification to ideation, to prototyping and iteration, to the final design process. From there, a lot of companies would transition things over to a product developer. But at Kahtoola, the designers are also developing the product and working directly with our manufacturing partners. We're responsible for every step along the way, including getting the final product ready to go on the shelves at retail. This makes for a bit slower pace overall, but it does help us ensure that the products we produce maintain our design intent and functionality.
Can you give us an idea of what Kahtoola, as a company, was like when you first arrived?
It was very different. It was really small. The company was just starting to grow into what it is today. And they actually didn't even have enough room to seat me with everybody else at the time. They were in the middle of constructing a new building, so I actually sat with the owner, Danny's, Dad for a little while in a different little area, which was actually really fun, because he's a really cool guy. And it worked that way for probably about six or seven months until we all moved into the new building across the street. So it was definitely a smaller company back then. It's grown a lot and changed a lot since I came on board.
You're very committed to the design process. What initially drew you to product design?
I started out as an engineering student in college, where I joined a team of students who designed and built race cars for collegiate competition. I worked on that for a couple of years, but somewhere along the way, I started to realize I was less interested in engineering and more interested in the human connection to the car—how the driver's experience and cockpit layout could be optimized, for example. At the time, I didn't really know what that meant, but I knew engineering wasn't a perfect fit for me. So, I transferred to another school to explore some options. Not long after I arrived, an adviser recommended that I take an elective class on industrial design. And after two classes, I knew that was the path that I should be on. So, I changed my major and graduated with a Bachelor of Science degree in Industrial Design four years later.
As a product designer with a degree in Industrial Design, you could be working in any industry. Why did you choose the outdoor industry?
When I was preparing to graduate, I thought a lot about what industry I'd like to work in. For some reason, the outdoor industry wasn't immediately obvious to me as a career path. But I've been backpacking, hiking and enjoying the outdoors my entire life. And my parents always shared a love for the outdoors with me. So when an opportunity arose with Kahtoola, I realized that working in the outdoor industry could be a great way to combine two things I loved—the outdoors and design.
You've been working in the outdoor industry a long time now. What do you enjoy most about it?
When I first started, I didn't really know what to expect working in the outdoor industry. But now I'm convinced I made the right decision. The people are not only passionate about the outdoors itself, but about preserving it for future generations, and operating their businesses in a responsible way. I've met some amazing people since I started working at Kahtoola. And I think the outdoor industry is a unique and special community.
Do you have a personal philosophy when it comes to product design? 
My personal design philosophy has always revolved around valuing simplicity and letting form follow function. It could be the race car background, but I always strive to create products that are simple, yet extremely effective. Nothing is superfluous, and every detail serves a function. 
How do you approach each new iteration of a product or the design of a new product?
For me, this begins by approaching a new design, or a redesign with a newcomer's eye. That can sound counterintuitive when you already know a lot about an opportunity that's in front of you. But it's really important to get a fresh perspective and to see things from a different angle. Once I start to approach a problem in that way, I can start to define an opportunity with a set of goals, and a target user profile for the project. This process can be difficult, and it takes a lot of practice to get it right. When I make project goals, they need to lay out specifically what I hope to accomplish, but I don't want them to limit me in any way.
Once you've got some solid goals in place, how do you turn that into a finished, physical product?
Once the initial phase is complete, the fun really starts. And that means prototyping, prototyping and more prototyping. This may sound obvious, but a lot of designers skip this part of the process. Personally, I live by the saying, "fail fast to succeed sooner". So I like to create and test dozens of prototypes, for every product that I work on, right up to the point where people have been floored when I show them the bins we have full of old prototypes. We keep this stuff around, because we learn so much from every single prototype. They've all been used and tested, and sometimes we'll actually reference old ones to remind ourselves why something didn't work and what we learned from it. This prototyping and iterating process eventually leads to a design that meets the goals set out in the beginning.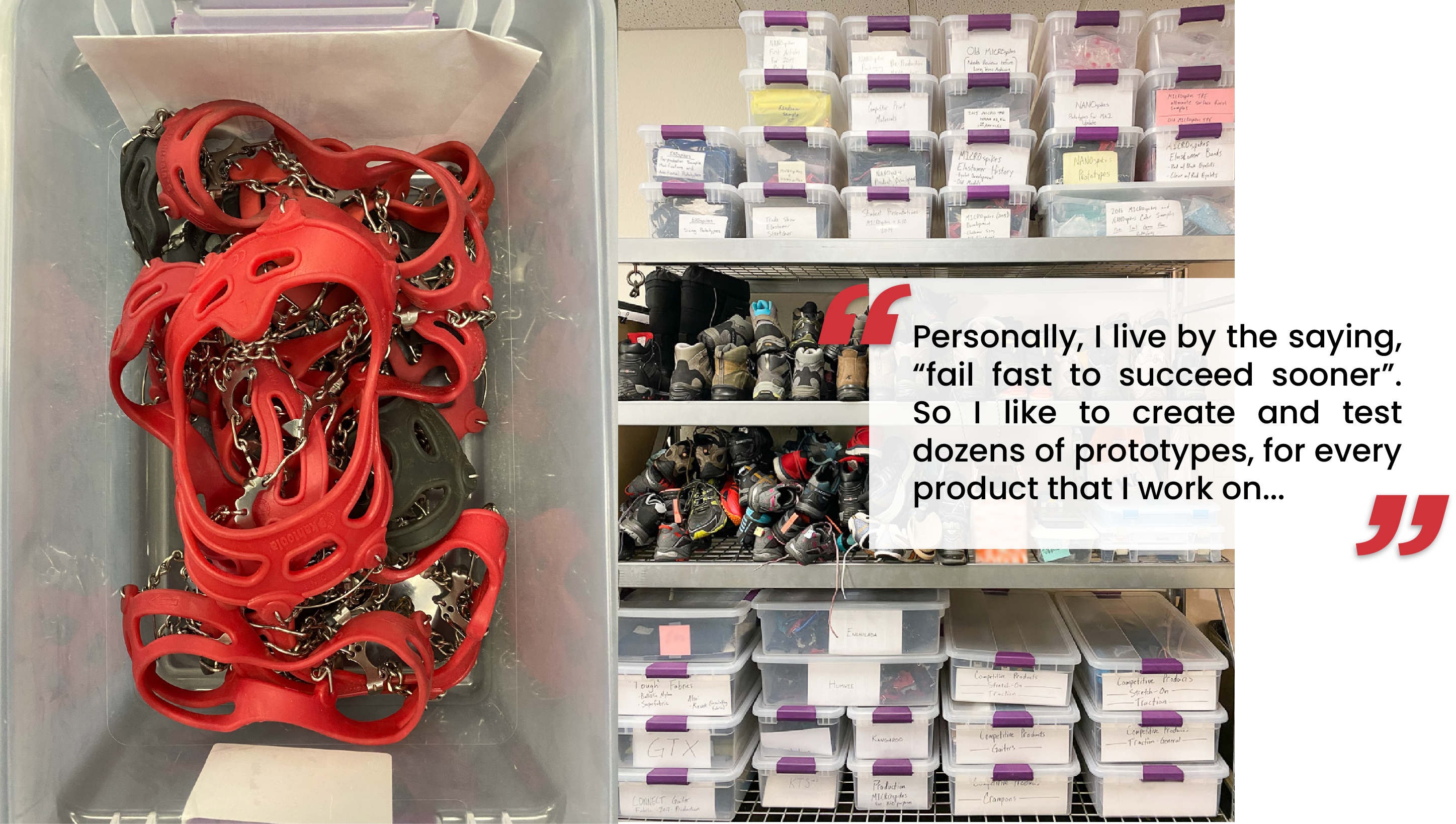 Do you use MICROspikes® footwear traction on your own personal adventures? 
I definitely use them on my personal adventures. I live in Flagstaff, AZ and it's an amazing gateway to a lot of outdoor adventures. For example, I've used MICROspikes® to summit Mt. Humphreys, which is the highest mountain in Arizona. And I've also used them to hike to the bottom of the Grand Canyon when the top is covered with snow and ice. MICROspikes® are an amazing piece of gear, and they've enabled me to enjoy the outdoors in a way I wouldn't be able to otherwise.
Do you believe it's important for product designers to use the products they are tasked with improving? 
It's very important for me to use the products I'm working on. When I do, I become personally invested in the success of that product. If my own future experiences will either be improved by, or rely on, the product I'm designing, I'm going to put a lot of effort and energy into making sure that the design is excellent. 
Have you had any 'design epiphanies' while using MICROspikes® on your personal adventures?
One of the biggest design epiphanies I've had occurred to me when I've chosen not to bring one of our products on an adventure. Unfortunately, I can't actually talk about it, because the product hasn't been released yet. So stay tuned!
Another one, that I can talk about, happened right in my own neighbourhood. One super snowy day, I decided I wanted to walk to the convenience store. So I put on some MICROspikes® and headed out. I had pretty lightweight footwear on and it was a bit of a hike. I remember thinking, man, these are great, because it's super icy out, and I can walk so confidently. But when I got back home, I started to think about user feedback we had been getting. Some people were finding that when they were using MICROspikes® on pavement, with lightweight footwear, their feet hurt. And, now that I had used them in similar conditions, I had to agree. My feet were sore. And while this didn't influence the MICROspikes® design, it helped influence an entirely new product—NANOspikes®!
The evolution begins!
At what point during the evolution of the MICROspikes® footwear traction device did you join the Kahtoola product design team?
I joined the Kahtoola team in May of 2010. MICROspikes® were still in their original form, and they had been on the market for about three years. It was right around the time that they were really starting to become popular. 
So, you began working on MICROspikes® before their first redesign. During that first redesign process, how did you approach improving the functionality of the product?
When I started at Kahtoola, I knew quite soon MICROspikes® were ready for a refresh. They were a very unique product, and people were raving about them. They were working well, but they were very basic, and users were starting to push them harder and harder out in the field. At that point, I was pretty new at Kahtoola, so I didn't really know where to start. But I had to start somewhere! 
So, I began asking our salespeople, our marketing people, and our warranty people, what they had been seeing and hearing from customers. Back then, Kahtoola was an even smaller and more tight-knit group than it is today, and everyone had an incredible amount of feedback to share with me. They had already gathered so much customer feedback, that I didn't really have to go looking for it. And that was enough to get me started on the first redesign of MICROspikes®.
How was that feedback incorporated into the first redesign?
From user feedback, we determined that people were very happy with the traction component of MICROspikes®, but some were having trouble getting the stretchy band on and off when they were out in the snow and their hands were cold. So, for the first redesign, we decided to concentrate on the band. We updated the look, and improved usability by adding a pull tab to make the band easier to put on and take off.
It sounds like the initial MICROspikes® footwear traction redesign used a very customer-feedback centered approach. Has that same approach followed you through to the two more recent iterations, or has it evolved along with MICROspikes®?
I would say it's generally the same, but some differences have evolved over time. After the first redesign, MICROspikes® really began to get a lot of attention. And, along with that, we started getting feedback from a lot of different sources, in many different ways. The sales, marketing and warranty teams were still getting a lot of feedback, but people were starting to come directly to us—the designers.
We began getting more feedback from athlete ambassadors as more and more started using MICROspikes®. Many on our team at Kahtoola also use MICROspikes® and so a lot of feedback has started coming from them. And we started to actively seek out, and take very seriously, product reviews and comments, whether they were from people who purchased MICROspikes® or independent reviews. 
So there have been changes, but user feedback is still at the core of the process.
Why do you believe user-feedback is so important to the design process?
When we're designing a product like MICROspikes®, we always want to get it to the point where it works really well. Then we'll release it, and people will start to use it. As more and more people use it, we get more and more ideas for things that would have been impossible to think of in the first place. Then, as product designers, it's our job to take the spirit of that feedback and understand it on a deeper level. We can apply our expertise and improve the product in a way that really makes sense, and that will have the greatest impact on things like product function or durability. And that's really the heart of the whole story to me. That feedback gives us the opportunity to listen and say, "Yeah, no one has thought of this before!". And, as a result, we can make the product better. I think that's a pretty unique part of our story here at Kahtoola. Because a lot of designers will get a product to a point where it's good enough, but they don't always incorporate those new ideas through continuous updates.
How do you know when it's time for a redesign?
We don't make updates just for the sake of updates. We generally wait until we've accumulated enough worthwhile changes to merit a redesign. Before we commit, we really need to believe that a redesign will improve the product and the experience the user has with it. So, there is no timetable.
Over the years, MICROspikes® have seen a lot of significant enhancements. What, do you believe, are some of the most important ones? 
I'd say there are two that really stand out to me. The first is when MICROspikes® went from having two spikes at the heel to four, which not only gave more traction, but a lot more stability as well. That's a remarkable update, because if a customer doesn't feel confident using the product, that's a huge problem for us, and the 4-spike heel design helps improve that significantly.
Another really critical update is the most recent change to the Thermoplastic Elastomer (TPE) band. Recent innovations like the new overmolded eyelets, and also the integrated toe-bail have helped us create a harness that is not only thinner, lighter and less bulky, but also one that is by far the most durable harness that has ever been used on MICROspikes®. We spent a lot of time on that redesign, and for good reason. A lighter, less bulky band means that users may be more inclined to take their MICROspikes® along with them on all their adventures. And that's important, because if you don't have them with you, they aren't going to help you at all! Getting caught without MICROspikes® when you need them in the backcountry can be a real safety issue. 
What have been some of the most significant design challenges you've faced as you've helped MICROspikes® footwear traction evolve? How have you solved those challenges? 
A good example of this, and probably the most important, would be the eyelet redesign I mentioned earlier. Currently, the eyelets consist of a tough Thermoplastic Polyurethane (TPU) insert that's overmolded with a durable and stretchy TPE. But earlier versions of the MICROspikes® only used a TPE band, which were really functional, but left the eyelets vulnerable to stretching. 
Early on in my career at Kahtoola, I came up with an idea about how to fix this. But it took us more than four years of testing and design tweaks to find a solution that really lived up to our expectations. The process required a comprehensive understanding of the stresses that the product experiences during use. And to come up with a solution, we had to address, not only the design, but material selection and the manufacturing processes as well. Once we finally arrived at a solution, the one we use on MICROspikes® today, it was honestly like a dream come true for me!
Kahtoola's mission is to make the outdoors more accessible and rewarding by building exceptional products. How does this mission factor into the MICROspikes® design process?
At Kahtoola, we're relentless in our pursuit of making best-in-class gear, and that has certainly affected our approach to designing MICROspikes®. We're energized by any opportunity to improve a product that people rely on for their adventures. It's why MICROspikes® have been updated so many times. We want them to be the best. And we want them to be used and trusted by all outdoor adventurers, from all walks of life.
Is there anything about the product design culture at Kahtoola that you believe sets it apart from others in the outdoor industry?
I think there are several unique aspects to the product design culture at Kahtoola. Our owner and founder, Danny Giovale, has always made product development the foundation that the rest of our business is built on. He believes strongly in the design process and that to create outstanding products you really need to dive deep into it. At Kahtoola, that process is very inclusive and involves every single person in our company in some way or another. Team meetings about product design milestones regularly see attendance from every single associate. And we all value the ideas and feedback regardless of what a person's role is. This diversity of input is a real asset when I go back to the design table. 
Something else that I believe sets us apart is that we don't rush products out the door. We take our time with design, and some products end up going through a very long design and development cycle. And honestly, this would probably make most other companies cringe. But it's really important to us that when we launch a new product, we're confident in it. That means it needs to be really well thought out, tested and optimized.
And finally, everyone at Kahtoola gets frustrated when we buy a piece of gear and it doesn't last, so we make our products as durable as we possibly can. We want people to be able to use our products for a really long time. And we always encourage users to send gear in for repair, rather than dispose of it. Because we want to see as much kept out of landfills as possible.
Is there one thing about the MICROspikes® footwear traction design process you can share that you think would surprise readers?
I think it might surprise readers to know that there's an entire pre-production version of MICROspikes®, including injection molded components and all, that the world has never seen. We tried some experimental new things with that version, but they just didn't come together for a good user experience. It didn't meet our expectations, so we scrapped it, learned from that version and went in a new direction. The result is the MICROspikes® you see on the market today.
Fail fast to succeed sooner
How involved are you, and the other product designer(s), in product testing? 
We're very involved both with lab and field testing. We like to break stuff in the lab so that we can make it stronger. But there are so many things you can't anticipate when you're in a controlled environment, so there's simply no substitute for real world use and testing. And because we're the ones tasked with making our products work in the real world, it's very important for the designers to be actively involved in that process ourselves.
On my adventures, I'll often use both production products and current prototypes. And I usually use both at the same time. So, I might have a production MICROspikes® on one foot, and a prototype on the other. And this is really cool, because it allows me to compare the two versions of the same product in real life, and to get a feel for how they work differently from each other. It also makes the adventures I was already going to go on a little bit more fun!
Can you describe some of the testing processes MICROspikes® are subjected to in the lab?
MICROspikes® undergo extensive lab testing, where we actually take them out of a deep freezer, and stretch and twist and pull on the links until they break. We often do that so hard that our entire workbench moves across the floor. We literally try to break them so we can learn how to improve the design. Danny makes it his mission to break our products before our customers ever do! In fact, he's one of our most demanding testers, in the lab and out in the field. He takes MICROspikes® on some pretty epic winter adventures and isn't shy about pushing them to their limit, and has done that throughout their evolution.
As you've mentioned, MICROspikes® go through extensive field testing. Can you give us some insight into how the process works?
We assemble field testing teams that go out and use the products in really extreme ways, in different types of weather and terrain and on different types of footwear. Those testers come back and we analyze the products they used and document their comments and feedback. 
Who are on your field testing teams?
I think the testing teams are really cool, because they are so diverse. On the teams we'll have athletes like ultra runners and long distance runners. We have weekend warriors and people that use our products for mountaineering. In many instances, we'll also include people that are just out, using them really lightly. Because we learn different things from someone who uses a product to walk their dog, for example, than we will from someone who uses it to summit fourteen thousand foot peaks.
How do you integrate feedback from product testing into the design process? Both from the lab and from the field?
With such a diverse range of testing input, it's not always easy! But seriously, both lab and field testing results need to come together to inform our design revisions. For example, we may uncover something that can be improved in the field, and then we'll take that back and try and replicate it in the lab, so we can really understand what's going on. I would say, field testing is like the discovery phase and then we take that to the lab to get a more holistic understanding of the problem. And with that understanding, it becomes much easier to come up with a solution that is truly effective.
A future full of adventure
Since 2007, hundreds of thousands of pairs of MICROspikes® have helped people find adventure safely. From those who simply need to get around their neighborhood, to weekend warriors, to professional explorers like Ray Zahab and everyone in between. 
And that's not about to change any time soon. With product designers like Chris on our team, we're excited to see where the evolution of MICROspikes® takes us next. Here's to a future where the outdoors is safer and more accessible for all of us!
"It's one thing when your gear makes your adventure more achievable", says Ray, "It's another when it is necessary for safety. You can find my MICROspikes® with me in the coldest regions of the planet. Not in my backpack, but on my feet!".
In dry conditions, MICROspikes® footwear traction can cause increased wear to rocks, roots and other vegetation. Please help to preserve our natural environment by using them responsibly.