The Logic and The Lightning
Amber light flittered through the snow-covered Northeast forest. I reclined in the driver's seat and gazed into my rearview mirror. It was a rare occasion that Katie Rhodes was behind schedule. I was usually the one ten minutes late. With no cell reception in the parking lot, I nestled into my seat and closed my eyes. I wasn't worried. She'd come through. And I didn't mind the extra rest, we were about to cap off our latest adventure together and had a big day ahead.
✲
Katie and I had not known each other long. Our paths had crossed only months earlier in late summer 2020 on a weekend overnight in the Adirondack backcountry. The Adirondacks are a recreational gem in Northern New York State. Six million acres of state parkland—half of which is public—make for epic rock climbing, ice climbing, skiing, whitewater, canoeing, backpacking and hiking adventures.  
We'd met to see if we were compatible to undertake one of the hardest hiking challenges on the East Coast, the Adirondack 46 High Peaks Unsupported Thru-Hike—a point A to B route that goes up and over 46 mountains above 4000 feet. We were either going to become fast friends or elbow bump and go our separate ways. 
It was a success. Just six weeks after meeting, Katie and I shouldered 32 and 28-pound packs and signed in at the trailhead on September 10, 2020.  Seven days, 4 hours, and 50 minutes later, we became the first women to complete the Adirondack 46 High Peaks Unsupported Thru-Hike—183 miles and 65,000 feet of elevation gain—without any assistance, car rides or food drops. Even when people offered to take photos on summits, we declined and took selfies. After the hike, I showered, ate a turkey sandwich and slept for 15 hours.
On that expedition, Katie and my personalities more than clicked, they complimented each other. Katie had a knack for small details and planning, and I for the big picture and motivation. Instantly, we saw the potential of our partnership. So, while our bodies recovered, our minds schemed about what we'd do next.
✲  
Finally, I heard a car approaching and opened my eyes. "Sorry I'm late," are the first words out of Katie's mouth, "I checked my GPS last night and it said two hours and forty minutes, but that took over three hours". 
She shut the hatch on her Subaru Crosstrek and clipped snowshoes to her pack. We slid MICROspikes® over our boots and began the icy three-mile road walk to the trailhead. Our ultra-mountain day of 4 high peaks and 27 miles with an elevation gain of 8,500 feet had begun. It was the final push on the winter project we'd settled on: A single-season winter round of the Adirondack 46 High Peaks we had hiked that September. Neither one of us were Winter 46ers and we wanted to explore our favorite mountains during the coldest and most challenging season.
✲
This new adventure had begun the day after Christmas. There had not been much snow in November or early December and just a few days before Christmas it was 50 degrees and had rained for an entire day, turning the trails into skating rinks. Because of the ice and the absence of deep snow, MICROspikes® and INSTA™gaiters made the perfect combo. 
At first, Katie and I proposed we hike all 46 peaks in two weeks, day hike style. We stocked up on enough food to feed us for two weeks and based our project out of my house in Keene, New York.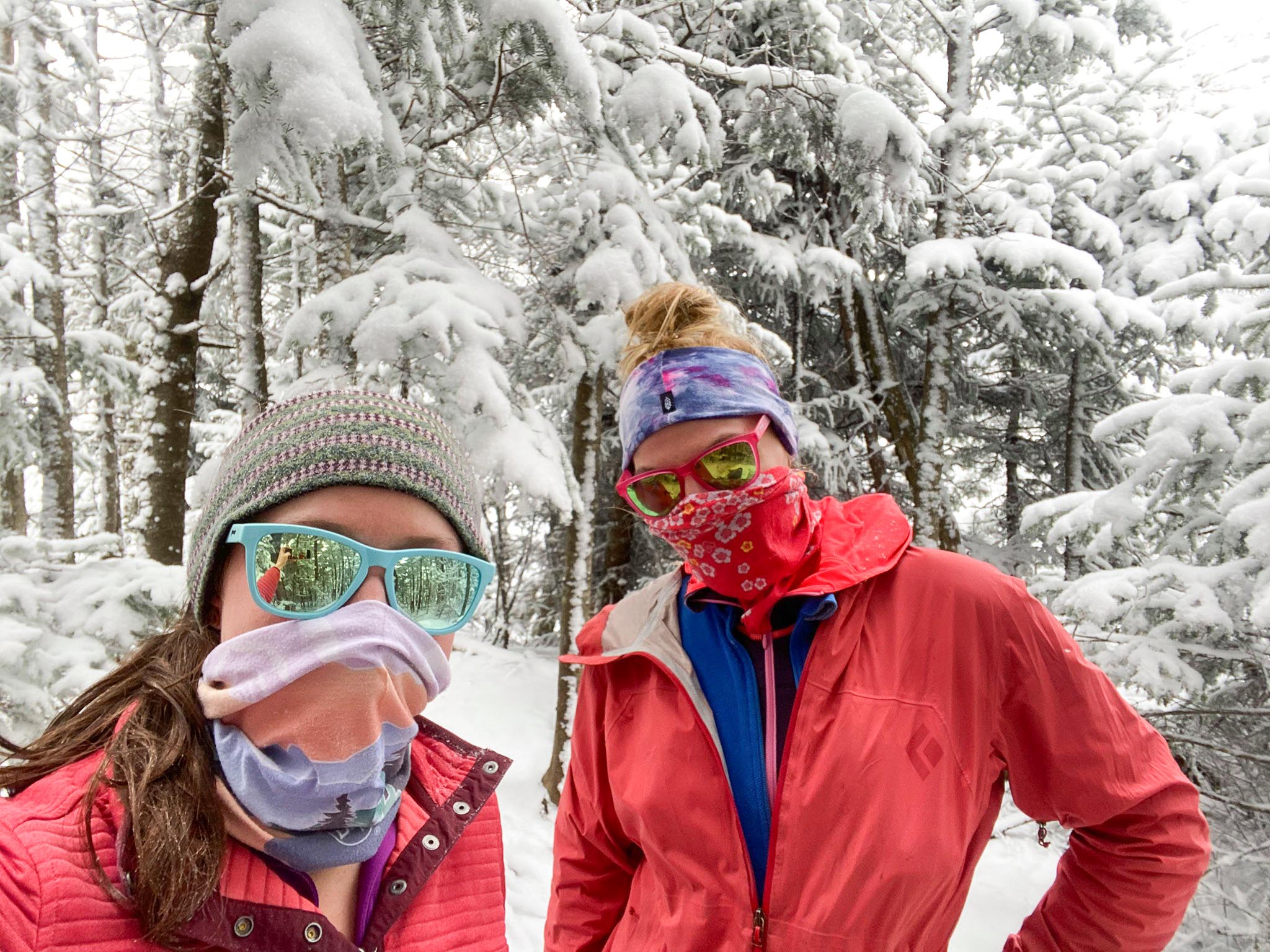 When we set out, trail conditions were ideal and the forecast held little snow. For the first week, we hiked back-to-back days and made quick progress, completing 25 of the 46 mountains in seven days. We'd wake up around 5:30am, eat breakfast, pack, and leave the house by 6:30 or 7, depending on how much I was running behind. Katie was always ready first and I would often find her patiently sitting on the couch waiting for me. 
We'd get on the trail by 8, hike all day, and get back to the house around 5pm. Shower, stretch, sleep, repeat. Our bodies burned through thousands of calories and we consumed boxes of pizza and cookies, cartons of ice cream, dozens of peanut butter and jelly sandwiches and granola bars—and I still woke up hungry in the middle of the night.
On the first day of 2021, the end of week one, life and all its responsibilities caught up with us and we had to pause our mission and shift it from completing the 46 in two weeks to completing a single season winter round by the first day of spring.
Katie and I looked at our calendars and decided to resume our day hikes on my birthday, January 15th. We planned a sunset hike and, when we reached the summit, pulled out small bottles of whiskey for a toast to a new year in the mountains!
That night, snow fell and the next day we traded MICROspikes® for snowshoes and LEVA™gaiters. Once snow conditions are eight inches deep, snowshoes or skis are required to avoid post-holing. Compared to boots and MICROspikes®, my snowshoes were clunky, and I tripped while adjusting to the widened cadence.
To describe the Adirondack Mountains in one word, I'd pick rugged. The elevation gain is steep, following creeks and slides with sections where you gain a thousand vertical feet in a mile. The majority of the time, you're surrounded by trees, but when you break the treeline on the highest summits, the views are breathtaking. Or it's the fierce wind taking your breath away. The Adirondacks certainly aren't the highest mountains in the US, but they pack quite a punch and test your backcountry skills. 
Nearing the end of our project, Katie and I hiked Mount Marcy, New York State's highest peak, in complete whiteout conditions. Just past the tree line, a man approached us and asked, "Are you going up?" We nodded. 
"Can I join you?" He asked. 
"Sure!" We replied.
Solo, he'd turned around before losing the trail. Now, he fell in behind us. I took point, and at times closed my eyes and tapped the trail with my foot and trekking pole, trying my best to stay on the compact snow. Katie was behind me with her GPS app, giving me a "go left", "go right" or "you're on it," when needed. We made the summit and gave a holler into the whirling abyss.
✲  
My mind was tired as we walked the road back to our cars after the final peak. Our mission complete, my mind wandered to the inside of my refrigerator and assessed if I had enough food for a proper post-27-mile hike dinner.
"I'm gonna get ice cream on the way home," I decided aloud.
"That sounds good," Katie replied.
 At the parking lot, we unclipped from our packs and exchanged a bear hug. With Monday around the corner, we wasted no time getting on the road. I put my foot on the brake to put my van in reverse and felt my MICROspikes® bite in. I laughed, shifted to park, slid my seat back and removed them. I placed them in my gear crate that I kept tucked between the two front seats. Their metal chains jiggled as they settled—a sound I'll forever associate with winter hiking in the Adirondacks.
Over the course of our single-season winter round, Katie and I covered 258 miles and 90,768 of elevation gain. We experienced negative 50-degree conditions, broke trail through waist-deep snow, floundered to free ourselves from spruce traps, watched a pine martin play in the snow, and adjusted our gear and systems until we were a fine-tuned machine. Exploration has no limit when you have the right gear and partnership. Where Katie is cautious, I'll say, "Let's try." And when I forget a piece of gear, she says, "I have it." We joke that she's The Logic and I'm The Lightning. Together, we're unstoppable. 
"If you want to go fast, go alone. If you want to go far, go together."
Follow Bethany and Katie's  adventures on Instagram @Bethany.climbs and @rhodes_and_trails or on Facebook Bethany Garretson and Katie Rhodes.