Embracing The Storm—Challenges and Triumphs at TransRockies Run 2021
When the news came that they would have the chance to race in the 2021 edition of the TransRockies Run, The Storm was ready. It was an opportunity Mandy and Bill Hansel couldn't pass up, even if it was coming at the last minute. 
Earlier in the year, the couple had been chosen as alternates in the Kahtoola/TransRockies Run Team Giveaway Contest—each year, teams of two apply and winners are chosen by a panel of Kahtoola Associates and Athlete Ambassadors.
"We never thought in a million years that, as the alternate team, we would actually get to go," Mandy recalls. "I mean, I just thought, what could have happened that would leave the other team unable to go?"
And she was almost proven right. Up until only a few weeks before the race was set to start, the original Team Giveaway contest winners Joan Bauman and Kimmie Blaich of team Grace, Grit & Glitter (G3) were training hard for the event. But as it turned out, fate had other plans and an injury forced them to drop out (don't worry, they plan to be back in 2022, with Kahtoola's support).
Bring on The Storm!
Now it was Mandy and Bill's turn. They chose to run under the team name, The Storm. It stems from a famous quote of unknown origin, and it has special meaning to both of them.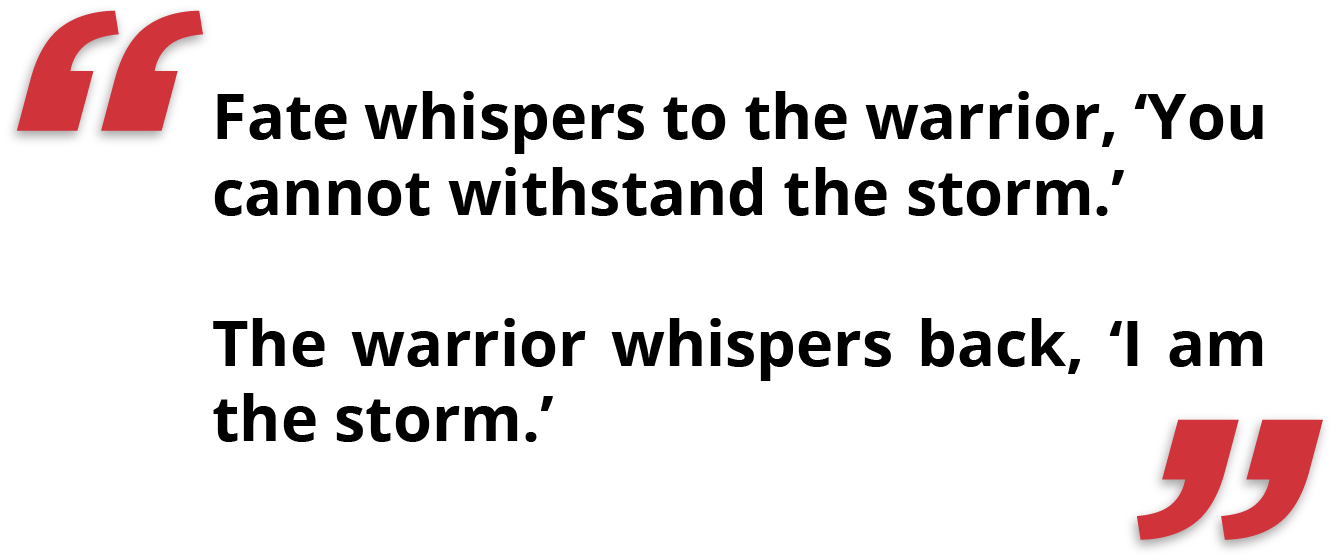 "Before we even met each other, we had this as a mantra," says Bill. "I think that's kind of how we approach a lot of challenges, and the TransRockies Run isn't any different."
Mandy and Bill have been through a lot in their lives and have always come out the other side of those challenges stronger than before. And now another storm was brewing!
The couple also happen to organize a trail race series of their own in their home state of Minnesota—also named The Storm—and it was scheduled to happen between the time they were asked to take team G3's place and the start of the TransRockies Run. 
Bill and Mandy started The Storm Trail Race Series as an inclusive event for trail runners of all levels and it raises funds for local mental healthcare providers.
"We were planning our own race for the 24th of July at the same time," says Bill. "Mandy was working on all the logistics of travel for the TransRockies Run—where we were going to stay and that kind of stuff. And, at the same time, we were prepping for our race on the 24th. That's five events and 180 people, so we had a lot on our plates during the two weeks leading up."
But being part of the TransRockies Run wasn't an opportunity they were going to pass up, no matter what was on the horizon.
"It's been a bucket list thing of ours for some time," says Bill, "I don't think we hesitated, it was a yes before we even knew the question!"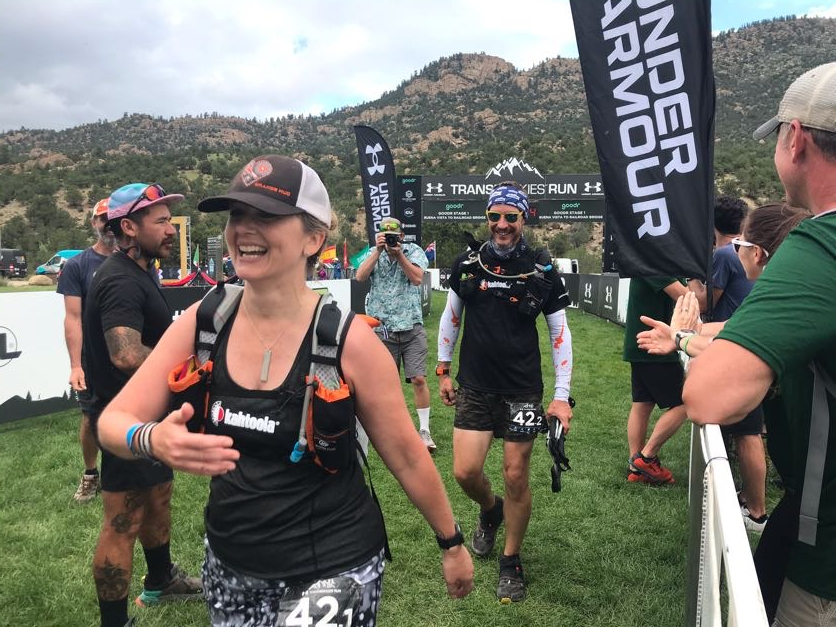 Summer Camp for Big Kids Begins
When Bill and Mandy arrived at their "Summer Camp for Big For Kids," also known as the TransRockies Run, their strategy was simple: just keep moving forward. They admit to being a little out of their element in the mountains of Colorado, but were determined not to let that stop them.
"We have no elevation in Minnesota," notes Mandy. "So that was something we were just going to have to deal with."
And that's exactly what they did.
"Honestly, I think the first day was the hardest for me," admits Mandy. "We were at the back of the pack—the very last ones. And so within two hours of starting, we already had the sweepers coming up behind us. To me, that's like the Grim Reaper breathing down your neck!" 
But Mandy and Bill finished that first stage. In fact, they ended up with a third place podium finish in their combined age group.
"We were in the 80-plus mixed team category, recalls Mandy. "And we were sitting there right after we finished and they started doing awards. And I heard them call The Storm up. And I thought 'what is going on?' Well, here, we took third place in our category. There were only three teams registered in that division, but it was super cool to be able to be up on the podium."
It was an inspiring end to a difficult stage. But even before the awards were handed out, Mandy and Bill were beginning to realize they were part of something special and that would be confirmed again and again in the days to come.
"We were the last people, but we crossed the finish line to enormous amounts of clapping and cheering and that was really cool," remembers Mandy. "I have a lot of self doubt sometimes… but honestly, I think the people at the back of the pack are the most encouraging and most supportive of everybody. Everybody we walked with or ran with were always super supportive and wanting to help everybody out. We did the dawn patrol [where a group of runners can start earlier in the morning than the main field] the third day. It was kind of fun to see all the runners fly by us, and even they were all super supportive saying 'good job' and things like that."
For Bill, one of the highlights of his run came during a cool and rainy stage two as he and Mandy reached the top of the infamous Hope Pass.
"It took a long time to get up," remembers Bill. "It was three miles to the top and it was windy and muddy. I know Mandy was struggling, but she's a downhill runner, and when we got to the top, she picked up speed and we ran down that hill so fast, I was barely keeping up with her. It was cool to see Mandy pushing through all the struggle to get up and to the summit of the pass and then just be able to enjoy the downhill. She probably ran for like three or four miles non-stop, just flying down the other side. It was awesome to be part of it and to see that."
A Change of Plans
Unfortunately, by stage three, an old injury had come back to haunt Mandy, and the two would be forced to make a difficult decision. 
Arriving at the second aid station that day, Mandy was in pain and beginning to feel defeated, but she gives credit to the crew for helping her push on.
"Those people brought me back to life," she remembers. "One thing they told me was that this is the most runnable section of the stage. I questioned if they were actually telling me the truth, because people say things like that all the time in races."
It turns out they were right, and running that next section became a highlight of the race for Mandy.
"We got into some soft, level ground, and I was able to run again," she says. "I had pushed through that mental breakdown at the aid station and was able to run again!" 
But the stage was still taking a toll on Mandy's injured foot.
"By about the halfway point on day three, the pain was getting to the point where I knew I wasn't going to be able to go on for another three days," Mandy recalls. "When we came into the last aid station, my foot was swollen and so they taped it up for me, because I wanted to finish. I wasn't going to get four miles from the end and not finish—that's just not me."
So, Mandy, accompanied by Bill, made her way to the finish line.
"Pushing on and finishing each day really was a huge accomplishment for me," she recalls. "And I feel like that's the lesson I learned—you and your body are able to do things that your mind says you can't."
Despite wanting to carry on, running in stage four would have been too much for Mandy's foot, so The Storm decided not to continue. Crossing the finish on stage three marked the end of the run for them, but not the end of their TransRockies Run experience.
Summer Camp for Big Kids 2.0
Even though they were out of the race, Mandy and Bill weren't planning on heading home just yet.
"I thought, 'there's no way I'm leaving this event after three days and just walking away,'" says Mandy. "I thought, 'this is such a cool event,' we're gonna stick around and help out however we can."
And so, Bill and Mandy decided to spend the last three days of their "Summer Camp for Big Kids" volunteering at the race. They were assigned to the start/finish area, and Mandy did what she could to stay off of her injured foot.
"It was very, very cool to be part of the race organization from both perspectives," recalls Bill. Being there as a runner, and then as a volunteer, and seeing what all the volunteers do behind the scenes. We got to witness the tent city being torn down and built back up each day. The start and finish line and Chillville and all the other big tents. It's quite the operation to see."
"[Volunteering] was such a great experience," adds Mandy, "It's so much fun and the people are just awesome. I mean, the inclusion of everyone was great. And, like Bill said, it really reminded us of our own events, you know, with what we call 'trailgating' or the big party at the end of the day where everybody hangs out and talks. It was just so interesting to meet so many different people from so many different places."
The Warrior Whispers Back, "I Am the Storm"…
As last-minute entrants into the TransRockies Run, Mandy and Bill became The Storm and both came out of their experience stronger than when they went in. And although the race didn't go exactly as they had planned, they left their mark on TransRockies Run 2021, and the Run left its mark on them. In fact, they're already planning their return.
"Absolutely, we'll be back," says Mandy. "Kahtoola sponsors a run that covers just the final three days, so we thought, well, we have to come back and finish what we started. It was amazing, so yes, for sure, one hundred percent we're going back!"