Grace, Grit and a Dash of Glitter
This year's Kahtoola-TransRockies™ Run Team Giveaway 2021 teammates are no strangers to tackling difficult situations head on—together
When Kimmie Blaich started running at age 35, she never in a million years thought she'd one day be lacing up her shoes to run the TransRockies™ Run with a local inspiration. Nor did she realize how her friendship with Joan Bauman—and with running—would come to play such a big part of her life. A friendship defined by enormous highs and the lowest of lows. One of grace, grit and a dash of glitter thrown in for good measure. Their friendship has endured more than most, and the bonds they formed during the trials they endured together will serve them well as they team up for the "Adventure of a Lifetime" at the TransRockies Run in 2021.
When Kimmie met Joan 
Kimmie and Joan's journey together began in Florida, and it began with running. But as Kimmie remembers it, the road to what would become an enduring friendship took some time to travel. 
Soon after her 35th birthday, Kimmie set herself a goal of running her first 5k. The event she chose was large—maybe four or five hundred people. Kimmie was new to the scene and it was intimidating. Other than a friend she had convinced to go with her, she didn't know anyone. But the friendly, uplifting atmosphere set off a spark in Kimmie and she knew right then that she wanted to get more involved.
"There was this running club at the race and they all had the same shirts on, and they all were chit-chatting with each other", remembers Kimmie, "And I thought 'oh man, they look really nice.' And, you know, I wish I knew them. But I didn't have the confidence to go over and say, 'hi guys, I'm Kimmie'. So I ran the race, had a great time and then decided to look up the running club."
Kimmie later joined that club and was introduced to Joan—a local inspiration in the Florida running scene. At least that's how Kimmie remembers it. 
"To run where we lived in Florida, you knew Joan and everybody knew Joan. And so I knew of her", says Kimmie, "I'm sure we even ran plenty of races together. But our connection wasn't immediate. I looked at her as such an amazing runner and thought, 'she's never going to want to run with someone like me'. She's doing half marathons and marathons. And she's kicking butt, and I'm just barely hanging on for 5k".
Joan doesn't see herself that way, and offers a different explanation for why she regularly finds herself at the front of the pack.
"When I was racing, I was just almost too shy to pass anyone. So I had to get out in front so that I wouldn't hurt anybody's feelings by passing them in the races. I thought of everyone as my friend and wanted everyone to be included. I would never have thought that someone would feel privileged to run with me, because I would be feeling lucky to be running with them." 
Friends at last 
Kimmie and Joan may have seen things differently, but as Kimmie's circle of running friends began to grow, she ended up on a group run with Joan one day. As they charged up a particular bridge together they began to chat and Kimmie suddenly realized, "oh my gosh, I'm running with Joan, I'm holding my own". But they also connected on a higher level that day.
"We had such a great time, an instant, easy connection. It felt like we had been friends forever."
Kimmie and Joan started spending more and more time together after that. They took workout classes together, trained and ran countless races and other events together. And as often happens with running partners, they became close friends. Kimmie attended Joan's spin classes and when Kimmie, in 2015, decided to train for the Marine Corps Marathon in an effort to qualify for the Boston Marathon, she enlisted Joan—or Miss Boston as Kimmie likes to call her—as her coach. Life was great and things were going well for the new found friends.
Grace and grit through tough times 
But as Kimmie is quick to point out, life happens and things can change quickly. And change they did—she and Joan were about to find out how much their friendship really meant to them. 
Friends become sisters 
Within a short span, Joan and Kimmie's marriages both began to fall apart. It was a difficult time to say the least, but they were happy to have each other. 
"It totally caught me off guard", recalls Kimmie, "And I was trying to train through this. Luckily, I could lean on Joan for the running and the physical aspects of the training, but also what I needed from a friend. And so it was really at that point that I would say we became not just friends, we became sisters. [Our friendship] blossomed because of running. But it was going through this really tough experience and having someone who was right there with me, whether I was calling in tears, or whether I was calling just to sit in silence with her. I knew she had my back."
And Joan feels the same way.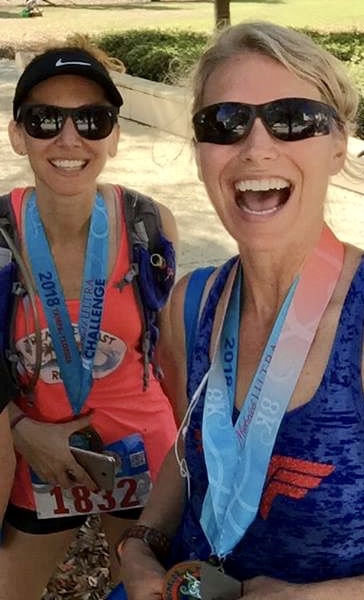 "We went through it all together and truly became sisters," she remembers, "We were there for each other over plenty of stir fry dinners where at the end of a long day we would go to
one of our houses and cook up a stir fry and just sit for a couple of hours. Kimmie gave me a plaque a few years ago that reads, 'You choose your sisters'. I see it every morning, right by my coffee machine and it's a constant reminder that Kimmie and I each have a chosen sister".
Their friendship was instrumental in helping them get through their divorces and they became closer for it. But it would soon be put to the test in a different way. In 2017, Kimmie moved from Florida to New Jersey with her now husband—a member of the US Coast Guard. Joan and Kimmie kept in touch and met up at races and other running events. And while things weren't quite the same, the two "sisters" weren't going to let physical distance pull them apart. 
Devastating news
That distance proved to be too much, however, when Joan was diagnosed with breast cancer in 2018. The news was devastating—she was young and extremely healthy—and she ended up in a tailspin of sorts. Joan had a lot of support from friends and the running community at home in Florida, but Kimmie was determined to be there for her no matter what. She quickly put her life on hold and returned to Florida to help Joan with whatever she could. 
Kimmie took Joan to appointments, helped her work with doctors to come up with a treatment plan and stayed at the hospital while Joan was in surgery, among other things. And, maybe most importantly, she was there when Joan needed her, with lots of hope and laughter through what could have been a very scary time.
"She was my right hand", says Joan of Kimmie, "She was my sister during all that. She was my family and she was right there with me. Kind of holding me up when I was trying to figure out which way was up or down and if I could even stand up that day". 
Kimmie was there with interminable grace during Joan's fight with cancer. At the same time, she found the grit Joan displayed through the whole ordeal to be truly inspiring. In fact, it's the subject of one of her favorite stories from that time.
"So, the doctor is coming in and checking Joan, and we're probably a day or two away from when they're going to release her to go home after surgery. And so she's immediately saying, 'Well, what can I do?', And she said, 'Can I walk?', And the doctor—we were in Stuart, Florida at the time—said, 'Oh, yeah, you can walk all you want—walk from here to Fort Pierce, if you want'. There was another girlfriend of ours in the room with us and we both started laughing. And I said, 'Doctor, please don't tell her she can walk from here to Fort Pierce, because I know that's 30 miles, but she will absolutely do that.' She will put on her sneakers and in a day or two start trying to walk from Stuart to Fort Pierce."
And that was just the tip of the iceberg. Through her treatments, Joan continued to run with Kimmie as her training partner. With her medical team's permission—and admiration—Joan finished second female in a 50k trail race the day after her last chemotherapy. She ran the Marine Corps Marathon and qualified for the Boston Marathon during radiation. Two weeks after completing the last of her treatments, Joan won Overall Female (OF) at the Ancient Oaks 100 miler—her first. Her doctors took to calling her their 'super hero' and 'miracle'. And she'll be the first to admit she wouldn't have been able to do any of it without Kimmie.
Today, Joan is cancer-free and is back to living life with full-force. And that means teaming up with Kimmie for the TransRockies Run in August.
Running imitates life: The TransRockies™ Run 
These days, Kimmie is living in Georgia and Joan is in Florida. They don't see each other as often as they would like, but they've set their sights on a new goal—the TransRockies™ Run 2021. The run takes place August 2-7, 2021, and at over 126 miles/200km long with 20, 000 ft/6000m of elevation gain, they'll need to work as a well-oiled machine to get through it.  
But all of the good and bad times Kimmie and Joan have made it through together have taught them a lot. They each know what the other is capable of and what they can accomplish as a team. 
"I don't foresee a lot of low points", says Joan, "I love to camp, I love running and I love the mountains. I think it'll be a lot of joy and encouragement and understanding of what the other person is thinking and going through". And Kimmie agrees, "I think we're going to be so excited, and so consistent…But I also know the level of our friendship. I can cry in front of Joan and I can tell her I'm struggling. I can tell her exactly what I feel, and good, bad or otherwise she will accept me with open arms. And we'll get through it together". 
So is there anything either Kimmie or Joan are worried about?
"I'm going to throw this right out there", says Kimmie, "Joan is Miss Montana. She's built for this experience. She may be living in Florida, but she is a Montana girl. I'm a little bit of a city girl. I do primarily road racing and not as much trail running as I would like…my latest 'camping' experience was at a cabin in a state park in Georgia where I had an indoor bathroom and a fully equipped kitchen. I even brought my crock pot. So this experience will be far out of my comfort zone…I'll be showing up with, you know, my glittery nail polish and my glittery toenails. And some of those toenails may get dirty or come off, but the glitter will still be there!"
Joan isn't worried though, she knows they've got it. But, always the coach, Joan does have some pre-TransRockies Run advice for Kimmie, "Your fingernails will be just fine—it's okay if they're really yucky for a few days, it'll be alright!"
Kimmie, Joan and the road to the TransRockies™ Run 
Stay tuned to our Instagram and Facebook channels as we follow Joan as Kimmie on the road to the starting chute at TRR 2021 and "The Adventure of a Lifetime"! And don't forget to subscribe to our newsletter, it's the easiest way to stay in the loop.