7 Tips for Getting the Most Out of Hiking With Your Kids
Advice from two Kahtoola parents on how to make your time outdoors with your youngsters as rewarding as possible.
Humans are unique. Unlike other mammals, we're driven to explore the world around us and to see and experience new things. Fortunately, getting outside and exploring the outdoors has never been safer or easier than it is today. And, if we're exposed to nature at a young age, it can lead to a lifetime of enjoyment and respect for the natural world. On top of that, studies show, among other benefits, when kids spend just a few minutes outdoors it can improve their mood, raise their self-esteem and help them relax. 
One of the best ways to get outside with your kids is by going for a hike. It doesn't require a lot of equipment or technical know-how, but that doesn't mean it's always easy or straightforward. To help us navigate the waters—or in this case the trails—we've enlisted the help of two of our in-house outdoor explorers: Kahtoola Founder Danny Giovale and Kahtoola Finance Associate Courtney Giauque. Danny has successfully raised two nature-loving kids and Courtney is in the trenches every day working to do the same for her two young children.
Here are seven tips they hope will make the time you spend outside exploring the outdoors with your little ones a safe, happy and engaging experience for everyone!
#1 – Make It Fun!
When it comes to kids, fun is the name of the game, so it's no coincidence that this tip is at the top of our list. As kids age, their attention span grows, but early on it may take more than just a walk through the woods to keep them engaged.
To keep things fun, Courtney suggests playing games while you hike like "I Spy", or counting the other hikers you encounter. To really make things interesting, try helping your kids count how many different bird songs they hear. Other fun, and easy to play, games include looking for cool rocks, leaves or animal tracks.
For Danny, playing hide and seek along the trail is a great way to keep things fun—and there are certainly no shortage of places to hide outside. Just make sure you set some ground rules ahead of time so that nobody gets separated from the group or wanders too far off the beaten path! 
#2 – Be Prepared
Unless they're a boy scout, it's unlikely that your kids will show up for a hike fully prepared. That leaves it to you to do the heavy lifting!
Courtney begins her preparation by checking the weather—a pre-hike planning essential. An unexpected rainstorm can easily ruin an otherwise wonderful hike, but with the right clothing—a raincoat, for example—the unpleasantness can be minimized and maybe even turned into fun. 
If the weather looks good, be prepared with things like sunscreen and hats to avoid sunburn, and be sure that everyone is wearing good shoes for walking, no matter what the forecast has in store.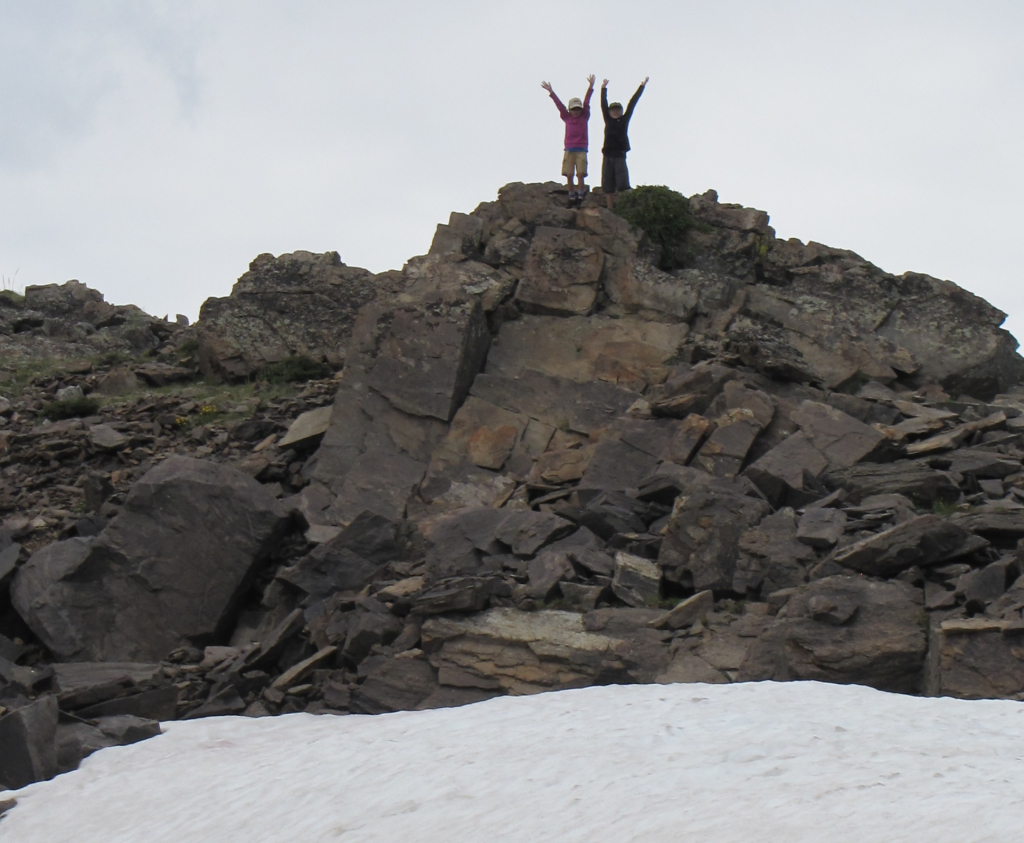 #3 – Invite a Friend
When Danny's children were young, he would often encourage them to invite a friend along on hikes. Sharing an adventure with others can be a very positive experience. And, if your little ones are already seasoned hikers, few things will make them feel more grown up than showing their friends how skilled they've become!
#4 – Use Your Outdoor Time As a Teaching Opportunity
Kids are always learning, and an outdoor adventure can be a great way to teach them self-reliance and to start them on a path toward a lifelong respect for mother nature.
Danny recommends starting out by showing them how to make being outdoors more enjoyable for themselves. That way they are learning self-sufficiency and skills they can carry with them into the future. For example, show them how to avoid things like cactus and barbed wire and how to deal with biting insects.
Courtney emphasizes teaching respect for the natural world and environmental stewardship. She suggests talking to your kids about respect for the plants and animals that you find on your hike. She also makes sure her kids know that we're just visitors in their home and that we should leave them in peace.
#5 – Whatever You Do, Don't Call It a Hike!
Ok, maybe never calling it a hike is a little extreme, but let's be honest, "hike" is a pretty boring word. And as Danny puts it, "that sounds like torture to a kid." He suggests using words like "explore" and "adventure" to keep kids interested and to play up the idea that you're not just headed out for a walk, but are going on a journey to see and experience some really cool things.
#6 – Don't Overdo It
Both Danny and Courtney are in agreement when they suggest not overdoing the length of your hike! For Courtney, when planning a hike with kids, "the goal isn't to ensure a thorough workout, but rather to instill in them a love of the entire process." That includes packing for the hike, stopping to take in the views and a snack and finding cool things along the trail. 
Like Courtney, Danny recommends keeping the hike short and simple—at least at first—so that it ends on a high note and everyone finishes wanting to get out and do it all over again. And don't forget that keeping kids fed, hydrated and protected from the sun will go a long way toward achieving that goal!
#7 – Don't Get Caught Empty Handed
For better or worse, hiking with kids means you can probably throw any illusions you have about traveling fast and light out the window. Being prepared with more than the bare necessities will make for a more enjoyable trip for the entire party.
Courtney stresses the essentials: snacks, a small first-aid kit, sunscreen and clothing layers for changing weather. A favorite toy can also help raise the fun-factor for kids. If your youngster can still be carried in a pack, she recommends bringing it along in case they get tired and aren't able to push through to the end of the hike.
And finally, Courtney suggests bringing along a garbage bag. This simple addition is a good way to teach kids good environmental stewardship and respect for the natural world by picking up the garbage you'll inevitably find along the trail.
Now It's Time to Make Some Memories!
Of course, nobody has all of the answers. These are tips and tricks that have worked—and are still working—for Danny and Courtney. We hope they'll help you get outside more often with your kids and make that time more rewarding. Being prepared, making the experience fun and ending on a high note will keep your kids wanting to come back for more, while teaching them about nature and how to protect it will help them grow into good stewards of the environment. 
Now, grab your gear and your kids, and get out there and make some memories!