Hope in an Uncertain World
It's been a year, to say the least. I distinctly remember a conversation I had with a friend over lunch in February. As a medical doctor, I valued his professional opinion on whether he would feel hesitant flying on a plane in light of a new virus that had just found its way to the United States. Things rapidly deteriorated soon after. For me, that conversation marked the beginning of a strange new world I'm still struggling to come to terms with.
It's difficult for me to find the right adjective to describe my outlook on life and the world. I am most certainly not an eternal optimist. What do you call it when you're neither a glass-half-full or a glass-half-empty kind of person? I think I'm right in the middle—I enjoy the fruits of the first half and all the warm fuzzies it provides me, but then I start to feel a little sad when those warm fuzzies are coming to their inevitable end the moment the halfway threshold is crossed. Maybe "calculated optimist" is a fitting description of my perspective.
One thing I hold onto despite my sometimes-wavering calculated optimism, is hope. Even when I feel my own world is crumbling around me or another news headline in big bold red lettering hits me in the gut, I hold onto hope that we can heal, learn, and move forward using the wisdom gained. No doubt my faith in this credence has been tested to the core in 2020, but I want to share a few examples of how hope has helped me weather this uncertain world.
Big Goal in a Short Timeframe
I caught the Everesting bug earlier in the summer and set out to complete my own on Snowbowl Road here in Flagstaff, AZ. It meant riding up the 6.5-mile climb 15 times, gaining about 1,900 feet of elevation each time, in the hopes of eventually hitting 29,029 feet, the height of Mount Everest. Sure, it's a little contrived, but it got me jazzed to attempt something I truly didn't know if I could complete. I also saw it as an opportunity to use my platform to raise funds for Team Run Flagstaff Youth and help any youth, regardless of circumstances, participate. The program offers incredible leadership and mentoring and my hope is the opportunity helps foster a healthy relationship with running and all the goodness that comes along with it.
Embracing My Creative Side
Much of my life the past decade has revolved around running—training, racing, hosting retreats and coaching. It's been a wild ride and I look forward to many more years of pushing my mind and body to their extremes. I've recently set up a makeshift workshop in the backyard where I can completely disengage my mind from the running world and challenge my mind and creativity in a way I feel has been missing for too long. By broadening my horizon, embracing mistakes and valuing the learning process, I've found that engaging my mind in a new way has been incredibly rewarding and I hope others find a new way to engage and explore theirs as well.
Community and Accountability
It pains me to let people down and I've often used that as a tool when my motivation has waned. In some ways I've found my community to be shrinking during the pandemic with the absence of the running retreats I love so much, and the importance of distancing and precautions needed to stay safe and healthy. But in other ways I feel my sense of community has grown unexpectedly. Virtual runs in support of good causes, working closely with coaching clients sharing in their highs and lows, recreating with a few close friends in a responsible way, this community holds me accountable to be my best self, just as I hold them accountable and encourage them to be their best self. My hope is this community and positive feedback loop continues to expand and pays it forward to more and more people.
Citizenship
I began my studies at Butler University in 1996, my professional career in 2002 in Phoenix, AZ, and moved to Flagstaff in 2005. I met my incredible partner in life in 2009 and we married a few years later. I've now spent the bulk of my adult life in the United States. A large part of my heart will always remain in Canada, but a larger piece is present in my life here in the United States of America. I feel incredibly fortunate to have received my citizenship a few months back, sadly but understandably in a ceremony devoid of friends and family due to necessary precautions. In exercising my newfound right and duty to vote next month, my hope is those elected will lead with compassion and integrity, value and honor our land and public resources, and work together towards a future where everyone has the opportunity to thrive without fear or discrimination, regardless of where they are from, what they look like, or the pronoun they use.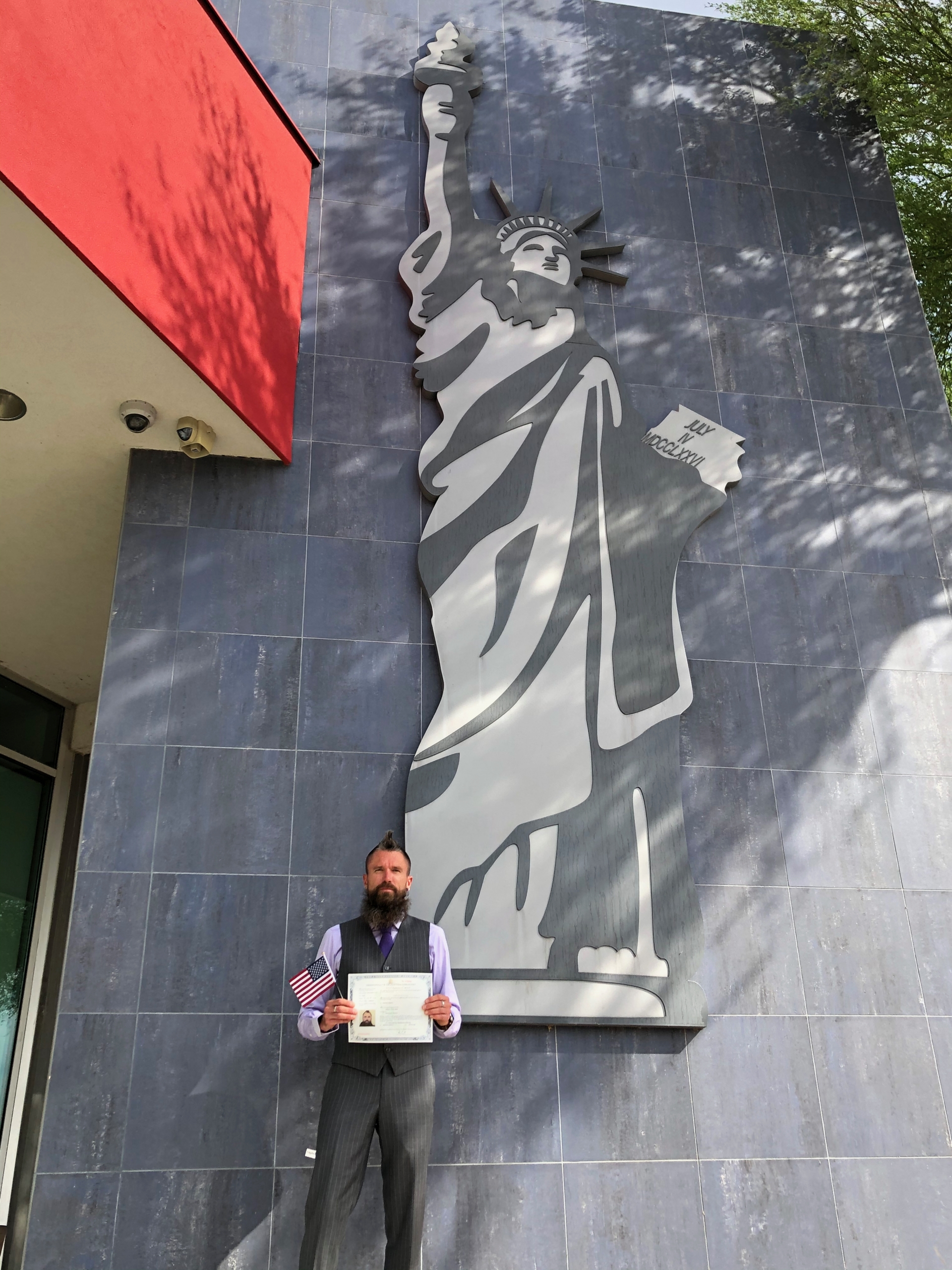 Through the many ups and downs I've navigated since our world was turned upside down, I've experienced a surprising amount of personal growth. This has led to more optimism for the future as I continue to cultivate my relationships with the people and places around me, and find where I fit in this crazy world. I hope these thoughts inspire your efforts to stay connected and you continue to foster the relationships that are important to you.
Kahtoola Ambassador Rob Krar lives with his wife, Christina, in beautiful Flagstaff, AZ, where Kahtoola is headquartered. Rob's experience and attention to detail has been invaluable in testing and refining several additions to our line of gear including NANOspikes®, INSTA™gaiter, and EXOspikes™.
To learn more about Rob Krar, his journey, and ultrarunning camps, visit www.robkrar.com
Go back to all "21 Years of Dedication to Design | People | Adventure" stories