Closing the Gap
As outdoor enthusiasts, we go out of our way to protect every part of our body from the elements in order to keep comfortable. Sun hats and glasses, rain shells, puffy jackets, gloves, base layers, quick-dry pants, wool socks and waterproof shoes. You name it, from head to toe there's a piece of gear somewhere out there designed so we can better enjoy adventures.
But what about gaiters? Why don't we go to greater lengths to protect our feet? 
During a 2015 backpacking trip in the Grand Canyon, Danny Giovale, Kahtoola founder/owner, saw an opportunity to improve the category. Noticing how poorly his hiking partner's leading-brand gaiters functioned, he thought, Kahtoola can put design effort and thought into this to create something truly unique and valuable.
Three-Piece Footwear System
Hiking is the most widely participated-in outdoor activity—especially today as more and more people are getting outside. Combine that with backpacking and trail running, and that's a lot of time on feet. Whatever the adventure, elements that can and do get in footwear change the way we engage with our surroundings. 
People often don't realize just how much their behavior changes with the addition of one tiny rock, a small amount of sand, or a little bit of moisture. But it doesn't take much to feel less capable, shorten a great outing, or turn a fun day into a miserable one. One rock might be subtle, but it's enough to make anyone stop to dump out their shoes, and doing so consistently throughout a hike or run can become increasingly irritating. On the other hand, fully waterlogged footwear paired with a handful of rocks is not subtle, and ensures lasting discomfort. 
Gaiters are a valuable tool that can help avoid these scenarios, but they are traditionally viewed as an accessory. When designing our gaiters, we viewed them not just as an accessory, but part of what we consider a "three-piece footwear system."
The first two parts of this system are socks and footwear, which people spend a ton of time researching before picking the perfect match. But what's left is an opening (or gap) between the two, and when left vulnerable to the elements, that opening becomes a problem. We set out to solve that problem by building the essential third piece to complete the system: a gaiter that creates a protective-yet-comfortable barrier around the foot.
A New Approach to Gaiters
After getting our hands on every kind of gaiter we could find in the outdoor market, we quickly realized a gaiter we wanted to use—one that was lightweight, durable, form-fitting, high-performing and, most importantly, comfortable—wasn't available. Through extensive research and testing we discovered what worked and mostly what didn't. Traditional tall gaiters were often too bulky, overbuilt and not user-friendly, while low- and mid-height gaiters existed as more of a fashion statement than providing any real functionality for users. In order for Kahtoola to make a gaiter, it had to bring comfort, fit, durability and high-performance together.
Once we started designing, testing, and refining dozens of prototypes, it became clear what design aspects needed to stay and which needed to go. Lightweight fabrics that could be tailored to the foot's natural shape and movement were essential. Velcro closures that ran down the middle of the shin and foot were super crunchy and didn't complement the fabrics, so we incorporated an asymmetrical zipper. And by taking advantage of the versatility and flexibility of TPU and combining it with a low-profile design, we created a custom instep strap that eliminated the need for bulky buckles and cords, and increased long-term durability.
The result was the INSTA™gaiter, LEVA™gaiter GTX and NAVA™gaiter GTX, hiking and trail running gaiters that improve overall gaiter functionality and are so comfortable they go unnoticed.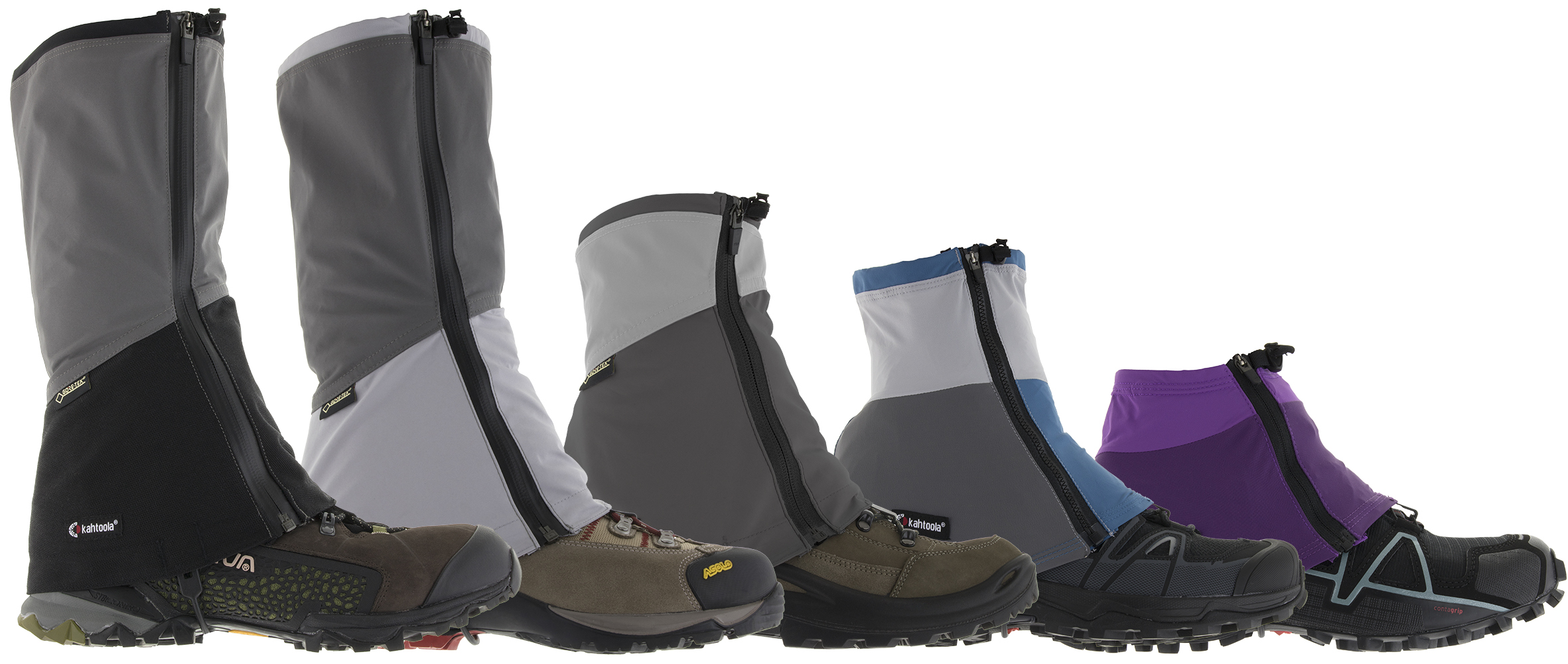 Anyone who has stepped foot on a trail can resonate with pesky bits of debris or rain- and snow-soaked footwear slowing them down, and the experience of having gaiters on your feet versus not wearing them is significant. They are freeing, prevent minor and major trail annoyances, minimize lace exposure to avert snags, and keep feet clean, dry and comfortable.
We believe our feet—one of the most important tools we have to keep enjoyable adventures going—should always be protected.
Go back to all "21 Years of Dedication to Design | People | Adventure" stories