Native Women's Wilderness Visits Everest Base Camp: A Q & A with Colleen Cooley
Native Women's Wilderness Visits Everest Base Camp: A Q & A with Colleen Cooley
For Colleen, reaching camp at 17,598 ft. was a worthy achievement, but she had a more important goal in mind
On November 17, 2022, raft guide, facilitator and friend of Kahtoola, Colleen Cooley left Lukla, Nepal on a trek to Mount Everest base camp. She was with a group of nine other Indigenous women that had come together under the banner of Native Women's Wilderness (NWW)—a nonprofit with a mission "to inspire and raise the voices of Native Women in the Outdoor Realm. To encourage a healthy lifestyle within the Wilderness. To provide education of the Ancestral Lands and its People." As a female Indigenous raft guide, Colleen is no stranger to adversity—or adventure—but this would be her first time visiting Asia and her first trek to such a high altitude.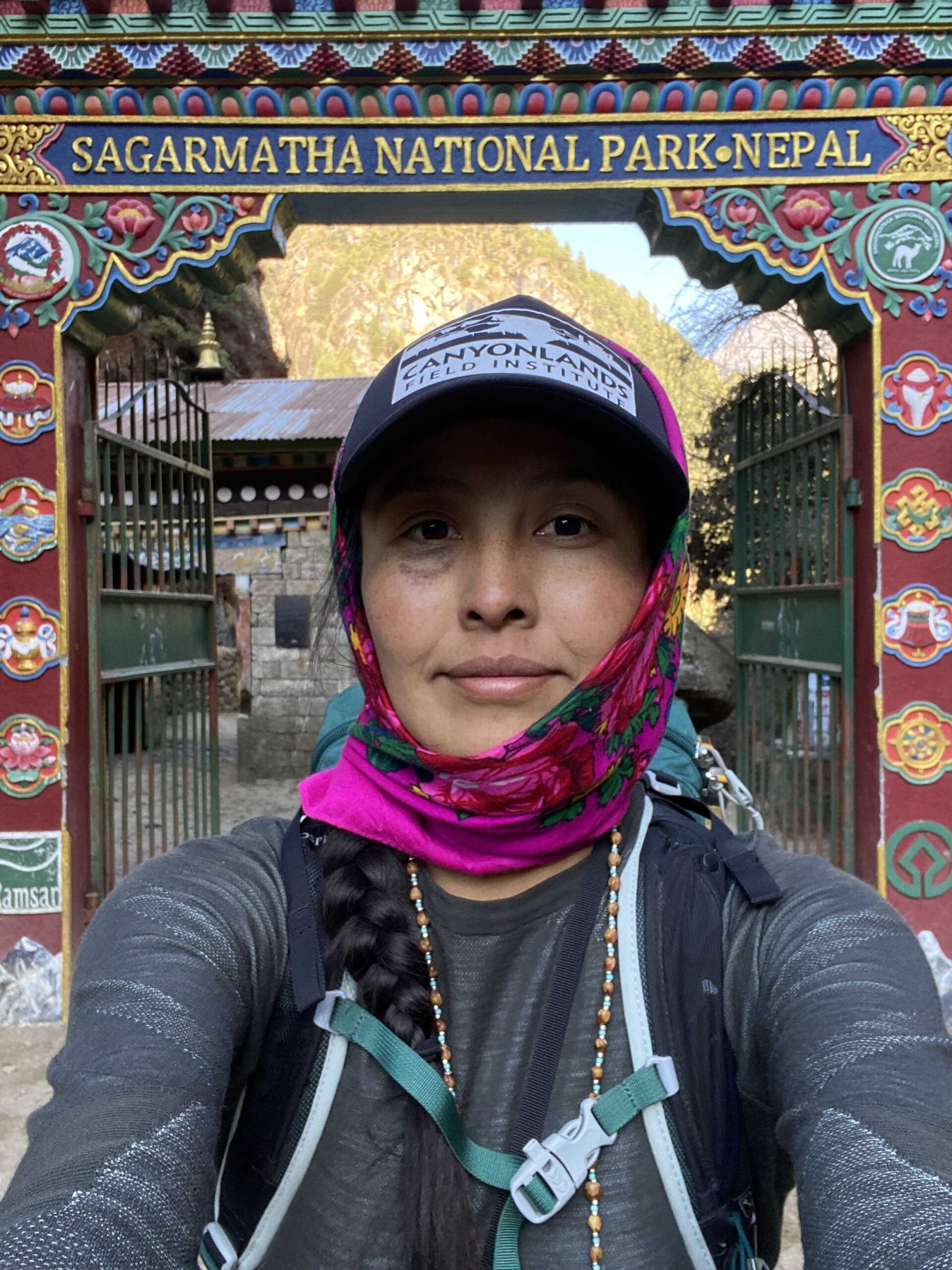 One week after leaving Lukla, the group of ten strangers turned friends walked into Everest base camp after eight days of trekking. A huge accomplishment by any standard, most people would consider this the pinnacle of an adventure like this, but "conquering the mountain" wasn't the goal Colleen had in mind. She was in Nepal on a greater mission: to inspire other Indigenous women and girls to embrace the outdoors and to connect with, and learn from, the people she met along the way.
We caught up with Colleen not long after her return from Nepal, and she was gracious enough to discuss her adventure and how she's helping make the outdoors more accessible for women and people of color. Here's what she had to say.
Colleen, would you please introduce yourself to our readers?
My name is Colleen Cooley. I grew up on the Navajo Nation, in a place called Shonto. It's located in the northeast part of Arizona and very close to the Utah border. I recently moved back there hoping to build my home, which will be an Earthship home built out of tires and recyclable materials.
I come from a large family—one of seven siblings—and I'm the third eldest. I grew up in Shonto, but I also want to acknowledge that my mother's side is from the community of Blue Gap. In Navajo, my clans are Kinyaa'áanii (Towering House Clan); Lók'aa' Dine'é (Born for the Reed People Clan), which is my father's clan; Tó'aheedlíinii (Water That Flows Together Clan), which is my maternal grandfather's clan; and Tł'izi'łání (Many Goats Clan), which is my paternal grandfather's clan. This is how I introduce myself in my language when I talk to any group of people and how I make relationships with other people. It's how I acknowledge who I am and where I come from.
Native Women's Wilderness aims to inspire women of color to explore and celebrate the outdoors. Can you tell us about your own personal relationship with the outdoors?
It's always been a part of me, who I am, and where I come from. Water, in particular, has always been very important to me for a number of reasons: We are in our mother's womb for months in water, we need water to sustain ourselves. Water is life. In my language, "water is life" is translated as Tó éí iiná.
People often think of being outdoors as having to go hiking, rock climbing, skiing or being on a boat, but being outside has always been a way of life for me. As a kid, I spent a lot of time climbing on sandstone, wandering around in the washes, or helping my grandparents herd sheep, so I was always outside. Rather than making time to go outside, I've always just been connected to it, ever since I was a young child.
You're a trail runner and you spend a lot of time on the river as a raft guide. Are those activities that you grew up with?
No, I got into those later in life. When I was younger, I played sports like basketball and volleyball. I tried out for cross-country running and track but they weren't really for me. I didn't get into trail running until seven years ago, and I was first exposed to rafting in my early twenties. I had never been on a river trip until I took a college course on the ecology of the San Juan River Basin at Northern Arizona University (NAU). At the end of the course, we had the opportunity to do a trip in the area, which was my first exposure to a multi-day rafting trip.
What did that rafting trip mean to you?
It was pretty eye-opening! Until then, I had not realized there was a river near where I grew up that I could go rafting on. I think what made that experience special for me was learning about the ecology, the archeology and the geology of the river basin along the way. We learned about more than just being on the river. We learned about the surrounding landscape, the history and the dwellings. The whole experience really made me want to keep learning more; so when my older sister, Nikki, co-founded the Native American River Guide and Cultural Interpretation Training Program at NAU, I was able to participate and eventually become a raft guide.
As an Indigenous woman, did you feel accepted as part of the raft-guiding community?
My sister, a former Grand Canyon raft guide, noticed a need for more Native guides to share their own stories and experiences on guided rafting trips, which led her to start this program at NAU. This is the program I participated in and it was meant primarily for Native people, so that experience was very comfortable because I could relate to the other people that went through the program with me. The instructors were a mix of Native and non-Native people; the goal was to introduce students to—and teach them—the essentials of the guiding industry, including the importance of knowing and sharing the cultural aspects of the river corridor.
Once I started guiding, that feeling of relating to my fellow guides changed. I was one of the very few Indigenous females working [on the San Juan River] in the industry at the time. I worked mostly with male guides, which meant the support system wasn't there for me, and I felt isolated.
Do you feel like that has changed at all over the years—not just in the rafting community, but the outdoor community as a whole?
In the twelve years since I started guiding, I've learned how to speak up for myself—as a female and as an Indigenous person. One thing that was really helpful for me was being featured in a short documentary film titled Water Flows Together, where I could share my voice and perspective. Now, things have progressed, and I am seeing more women—including Indigenous women—training to become guides and working as guides. My hope is for the younger generation to see more people like us and to help inspire Indigenous youth that may want to work or get involved in the outdoor industry.
How did you get involved with NWW and their expedition to Mount Everest base camp?
I met Jaylyn [NWW Founder & Director] for the first time when I was invited to speak on a panel at the No Man's Land Film Festival in Denver in March of 2022. A month later, she invited me on this expedition. NWW's goal is to bring women together in the outdoors and share our stories, experiences and culture collectively, and this trip was meant to bring together a few of the NWW Ambassadors and other Native women that Jaylyn was inspired or empowered by. She brought together a group of women that she knew would support, learn from and inspire each other. Many of the women are already working to advocate for diversity, equity and inclusion through our own avenues.
What went through your head when Jaylyn said, "hey, we're doing this trip to Everest base camp, and we'd love for you to join us?"
For me, it was exciting. I had to read her email a few times because I thought, "Is this really happening?" I never thought I would have the opportunity to go visit such a special place. Once I received all the recommended vaccinations, travel insurance, flights, etc., I was finally ready to share the news with my family, which was two weeks prior to leaving for Nepal. That's the moment it hit me that this was really happening! They were all very supportive and happy for me and shared their words of encouragement and blessings. I felt very fortunate to get to go to this place with nine other women.
Why is having representation of BIPOC and minority groups in the outdoors—and more specifically on a trek like yours to Everest base camp—important?
Back when I started in the rafting industry as a guide, I didn't really have anyone other than my sister that I could turn to, or talk to, about some of the challenges I was facing. It's very important to have that representation, but also to be a voice and advocate for other Indigenous or people of color. On this trek, we hoped to be an example for young girls and women, so that they believe they can do this someday and say, "hey, we look like you, you look like us." The outdoors is for anyone, it's not just for a certain type of individual or group of people.
What was arriving in Nepal like for you?
Three of us ladies arrived in Nepal five days prior to the trek because we wanted to experience the country, culture, and food before the trek began. My personal experience was a bit frazzled in the beginning: my phone got hacked, I was sleep deprived, I was trying to settle into a new place, and I was getting to know the two women I was with.
After a few days, I managed to catch up on my rest and from then on it was excitement over meeting everyone, enjoying different varieties of food, and learning about the culture of Nepal. We all shared similar feelings of happiness, excitement, nervousness and some exhaustion, especially for the women who had just arrived.
This type of trek was something you hadn't experienced before. Did it take some time for you to adjust?
There was so much happening on the first day that it wasn't until day two that most of us started to settle into the idea that this was really happening. As we trekked, the altitude started to affect us, and we had to remind each other to stay hydrated throughout the day. Our trip was all-inclusive—meaning that meals, lodging and porters to carry our stuff were provided—which was new to me. Normally when I'm hiking or backpacking, I just snack along the way.
Each day, I made time to soak it all in…all of the different people on the trail, the yaks, the donkeys, the mountains, the views, and the water. I really wanted to focus on taking it all in mentally, physically and spiritually, so I did my best not to take a photo every time I saw something intriguing. I got pretty emotional at times because I was so happy to be there and to have this opportunity to be in a place that a lot of people can only dream of.
I thought about my family numerous times and remembered how happy they were that I was able to have this experience. This experience is difficult to explain in one blog or photo collection. During the trek, I wrote in my journal each day so I could remember my journey clearly upon returning to the states.
Were there any experiences or interactions with the local people that stood out to you or inspired you?
Yes! One day, we had a rest day and took an acclimatization hike to a village called Khumjung. We arrived at a tea house where we were welcomed by three women: a young girl, her mother, and their neighbor. They gifted us silk scarves and a welcome drink of mango juice. We ate lunch, and then our guides invited the women and daughter to engage with us. We were given an opportunity to ask them questions about their culture, their traditions, and their everyday life. This was really meaningful for us because we all wanted to meet and connect with other Indigenous women in Nepal and none of that had been preplanned. It was really for them to share their culture with us. We learned things such as when the young girl starts the school year, and what their day-to-day looks like, and they told us about the festivals they have there. We asked them a number of questions and then answered any questions they had for us.

How did your relationship with the other women on the trek evolve during the time you spent together?
We all bonded on different levels. From the very beginning, even before we met each other in person, we considered ourselves a family. As Indigenous peoples, we typically make relationship with each other as relatives—as brothers, sisters, aunties, and uncles. One of the women stated it beautifully while we were recording an appreciation video at base camp: "I am leaving here with nine new sisters," she said.
For someone who was following your journey to Everest base camp on social media—or reading about it afterward—what do you personally hope their takeaway is?
That this trek was not about conquering a mountain or checking something off a bucket list. This journey was about ten Indigenous women coming together and sharing their unique experiences and stories with each other, all while trekking up to the base camp of Mount Everest. Actually, I don't even want to call it Everest anymore, I would rather use the Nepali name: Sagarmatha, which means "Goddess of the Sky." Or the Tibetan name: Chomolungma, which means "Mother Goddess of the World."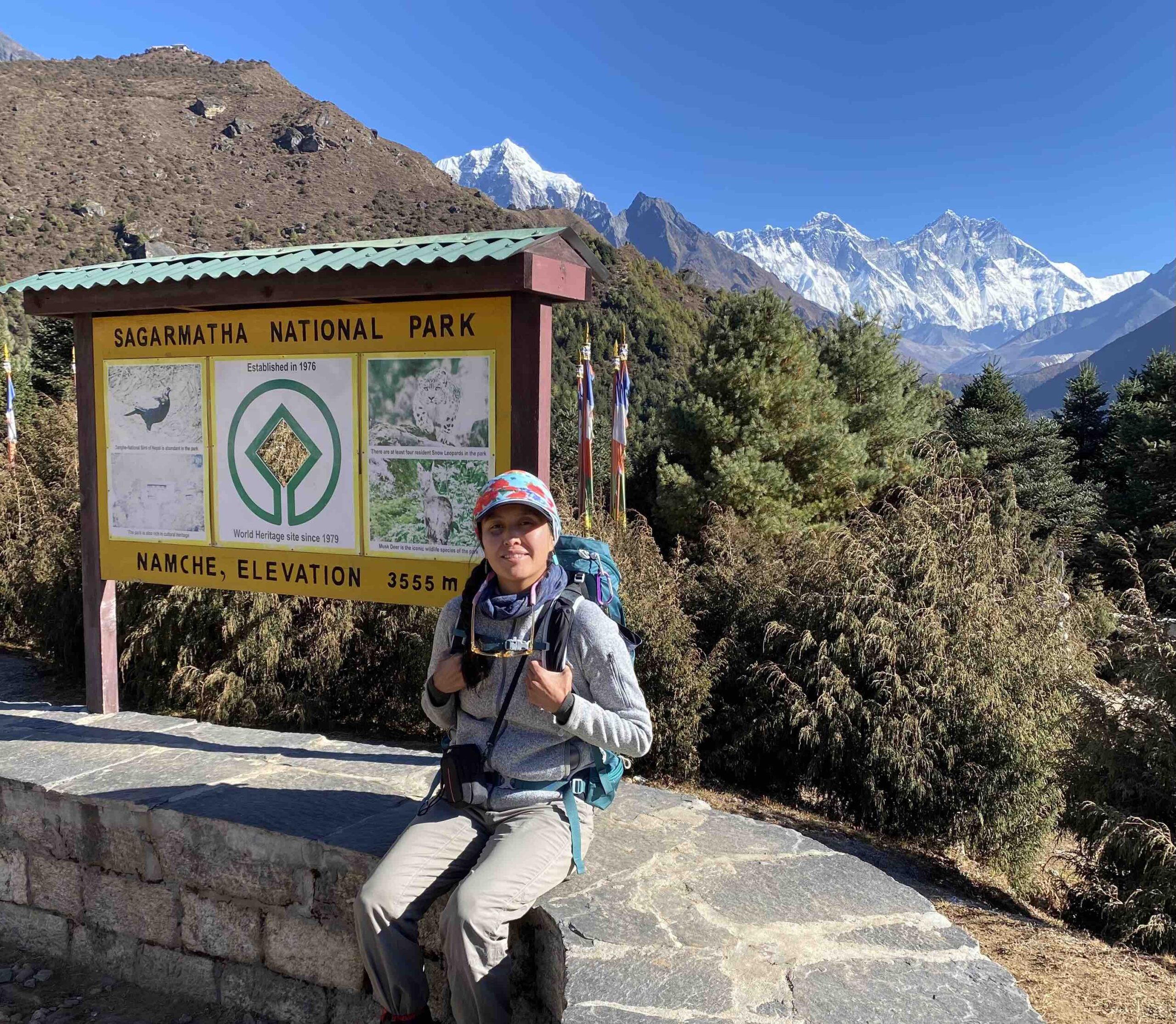 Another takeaway was to decolonize the journey by making it less about getting to the top of a mountain and more about connecting to the people, the culture, the food, and the history of this special place. What do all of these things we've seen in movies or books symbolize for the people that live there? What does the burning of juniper mean for the people that live in the mountains? Where does the food that we're eating on the trek come from? Connecting to the stories and the culture and the people was something we really wanted to make happen. And we wanted to share that before, during and after the trek. My hope is that my experience will inspire other young girls and women and show them that they can do something like this one day. I'd like to be that person that they can look up to.
Is there anything else you would like to add about your time in Nepal?
I would just like to thank everyone who helped us along on this journey: our friends, family, guides, porters, sponsors and brands. None of this would have happened without all of you. Ahé'hee' (Thank you).

Group photo with guides Anil (left) and Ranjan (right) on the last day of the trek.
There's always more work to be done to make the outdoors more accessible
Colleen and Native Women's Wilderness (NWW) are tireless advocates for women and BIPOC in the outdoor space. Their work has helped make it a more welcoming space for all, but there's still a long way to go. We've included some additional information below, so you can learn more about the great work Colleen and NWW are doing and how you can get involved.
Colleen Cooley
From Colleen's website…
"Personally and professionally, Colleen is passionate about the protection and conservation of the diverse landscapes, cultures, and waters that she is surrounded by because it is part of who she is and where she comes from. It is instilled in the stories, teachings, and clans that have been passed down to her. In addition, she is an advocate and raft guide on the San Juan River and Green River, a facilitator, a researcher, an educator, an amateur photographer, and a volunteer with NavajoYES, Colorado River Days, Flagstaff Mountain Film Festival, and most recently with the Biosphere 2 helping construct SAM."
You can find out more about Colleen and the vital work she's doing on her website or follow her on Instagram at @ccoolio2.
Native Women's Wilderness
"We have a lot of goals around here! These are at the top of our list…
Promote women of color in the mainstream advertising campaigns of outdoor retailers.
Encourage the celebration of exploration of the outdoors.
Provide education of Ancestral Lands and their People.
Inspire women to get outside and enjoy the outdoor realm.
Promote a healthy lifestyle within the Wilderness.
Provide resources for information and community.
Encourage outdoor education and leadership training for women and school-age girls."
Find out more about NWW and their work on their website or follow them on Instagram at @nativewomenswilderness.