Getting Loopy in Colorado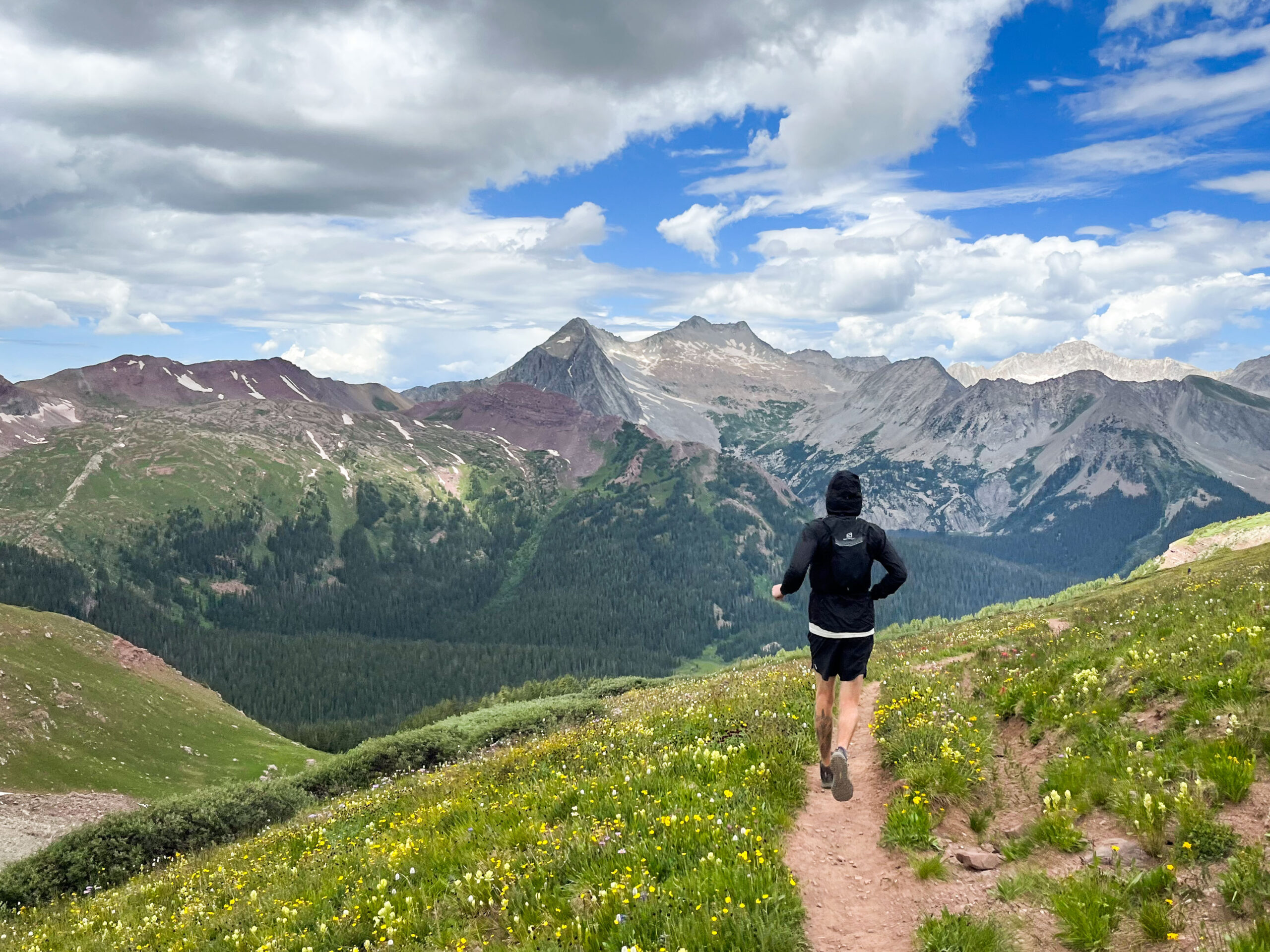 Getting Loopy in Colorado
Running the Four Pass Loop
What happens when you attempt a classic 3-5 day backpacking route in a day? During a short trip to Colorado in July 2022, Kahtoola Associate Austin Corbett and his partner Carrie Henderson set out to take on the unknown and find out for themselves.
Climbing up the last pass of the day, I was getting a bit delirious and light headed. Possibly from being at 10,000+ ft. in elevation for over 9 hours at that point. Or maybe from the fact that I had completely run out of food and water with at least another hour or two to go. Whatever it was, we definitely got what we signed up for with the Four Pass Loop.
The night before, under the guide of my headlamp, I poured the hydration mix into my bottles, trying not to make a mess as all the last minute packing nerves ran through my head. How much food should I bring? What kind of food to bring? Is it going to rain on us? Will we have enough water access? Ultimately, we really had no idea the scale of what we were getting ourselves into. In the morning, we would be attempting to run the well-known Four Pass Loop in the Maroon Bells-Snowmass Wilderness outside of Crested Butte, Colorado.
The 29 mile loop has become an extremely popular area for backpackers, day-hikers, and runners looking for a true Colorado experience. And you'll definitely get that experience with ~8,500 ft. of elevation gain and an average elevation of 11,280 ft. – with each of the four passes being above 12,000 ft. However, these numbers can't tell you about all the incredible sights along the way, like running past Maroon Peak, Snowmass Lake, the endless wildflowers, creeks, and incredible single track. Make no mistake though, this is definitely one of the toughest loops for this type of distance and will put even the most fit runners or hikers to the test.
Carrie and I rolled out of our tent in the morning and headed to the West Maroon Trailhead, which was a short drive from our campsite. If you're starting from this side of the loop, it would be best to camp nearby so you can get an early start. When we pulled into the parking lot around 7am, there were quite a few other cars, most likely from all the people out there backpacking. We would've preferred to start earlier with the chance of thunderstorms being a real threat, but sometimes it's hard to get out of your warm sleeping bag. Lathered up with sunscreen, packs loaded, and with the excitement of the unknown ahead, we were chomping at the bit to get started.
Off we went at a slow jog to get the legs warmed up, and almost immediately we were greeted by a dense forest with the East Fork Crystal River paralleling the trail. Shortly after, we climbed up a short switchback section that flattened out at the top, with wildflowers flanking the trail that seemed to never end. We cruised the next 3 miles along flowy single track until we reached a junction on the trail where we turned right to start the counter-clockwise loop. Our choice to do the loop in this direction was mostly based on the information that our friends had given us who had done it recently. Which means the hardest passes are 2nd and 4th.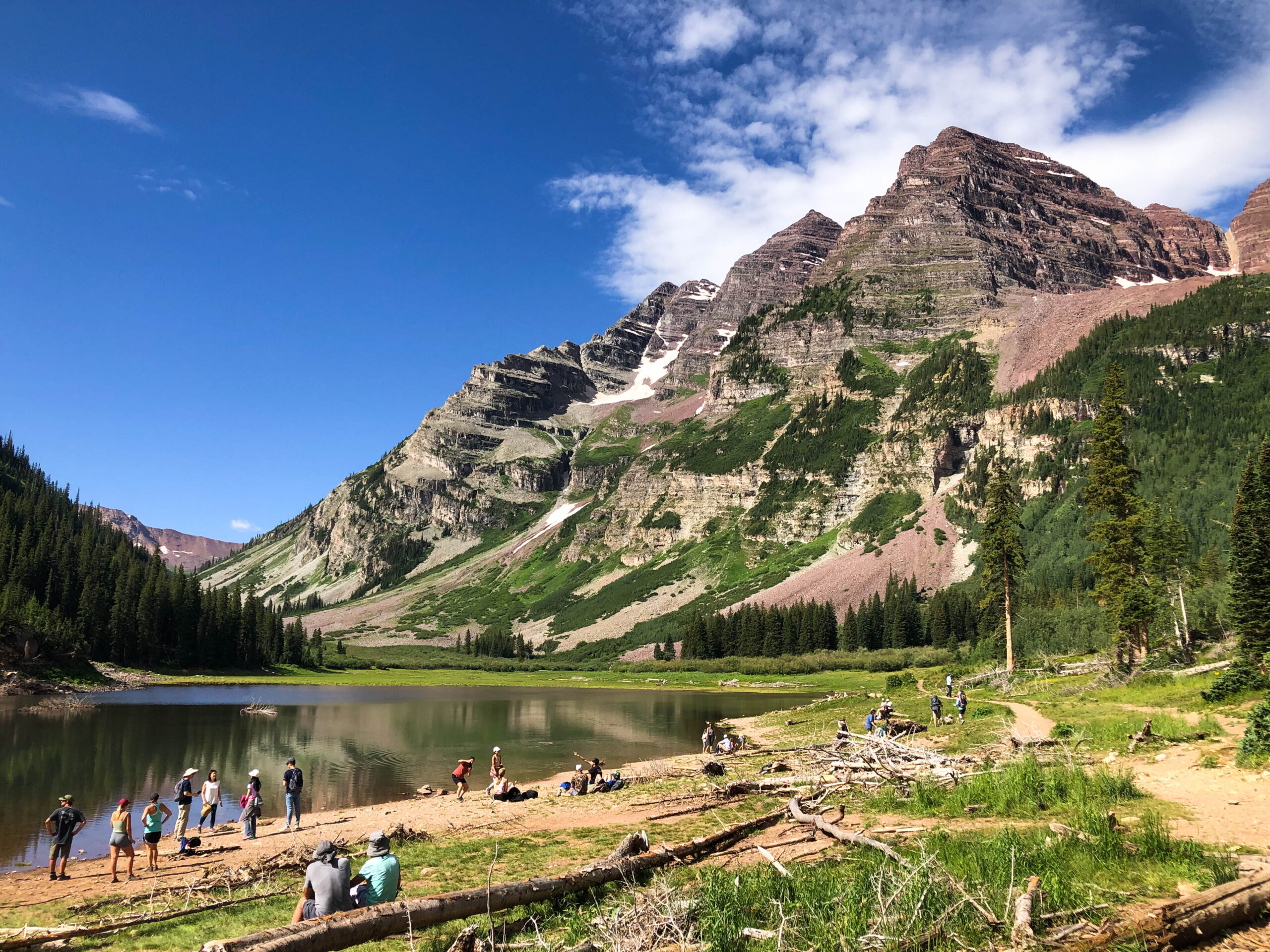 We moved slowly with the intention to be as efficient as possible since we knew we had a huge day ahead of us. West Maroon Pass (12,490ft) was first up on the menu and it felt easy to us as we had done a lot more challenging climbs in the days prior to this. This turned out to be the easiest pass by far. The descent down towards Aspen was gorgeous, yet a bit rocky. While still being runnable, we took it easy as there were some sections that were overgrown and made it hard to move quickly. In this section, we encountered our first of four river crossings that required us to take our shoes off and wade through rather than getting our shoes wet in the first few hours of the run. It was about knee deep, but very cold, so we made it out quickly and kept moving.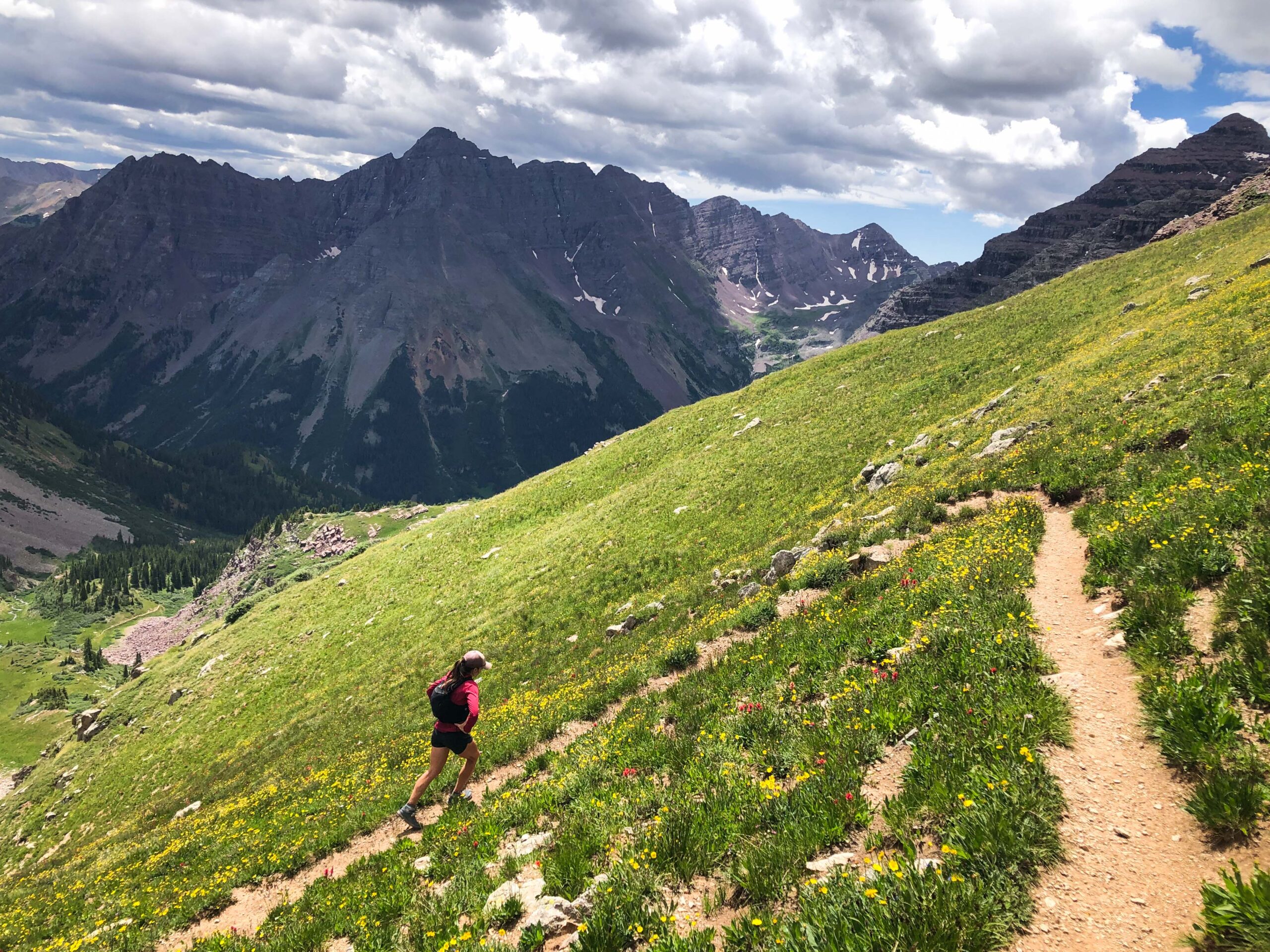 Eventually, we started seeing a few backpackers and lots of day hikers as we moved closer to the Maroon Bells and the entrance to the loop from Aspen. When we arrived at Crater Lake, there were quite a few people there already taking in the sights. We moved through this area quickly and started heading up Buckskin Pass. While this section was tough and seemed to drag on forever, there was no shortage of incredible views of Maroon Peak and the countless wildflowers.
One of the reasons why you can run the Four Pass Loop unsupported is the access to water throughout the route. We brought one 32oz Lifestraw Peak Series water filter which we used several times to refill our bottles/reservoirs. It's very easy to use and it allowed us to stay hydrated with cold water from the many creeks we crossed. We finally crossed over Buckskin Pass (12,462ft) and enjoyed a long descent down before we headed right back up.
Trail Rider pass (12,415 ft.) was next up and we wasted no time making our way towards another tough climb. After a mile or two heading up the next ascent, we came upon Snowmass Lake. It was definitely worth the stop as it proved to be one of the most beautiful sights we saw on the whole loop. However, the instant we walked up to the lake we heard a huge crack of thunder above us as we saw what looked to be a big thunderstorm heading our way. We weren't expecting a high chance of rain, but you never know when it's summer in the mountains. Luckily, we were able to just barely escape two separate storms. The monsoons can be very dangerous, so if you're attempting this route you must be careful to not get caught on one of the passes during a thunderstorm.
Our pace started to slow down as we approached our final of the four passes. We were really feeling the miles catching up to us. The one thing to remember about this pass is that when you're a few miles from the top of the pass, you'll have the last of your access to water for roughly 3-4 miles. Other than that, it's the same seemingly endless climbing up to the top. When we reached Frigid Air Pass (12,415 ft.), the hardest part was over but we still had another 4 miles to get back to our car. Surprisingly, we felt pretty good and we were able to slowly jog it in and finish up after almost 11 hours on the trail.
Both of us agreed that this was one of the toughest runs we had ever done even with several years of trail/ultra-running experience under our belts. But the Four Pass Loop was exactly what we were looking for. Our goals of exploring a new area, pushing ourselves, and not completely falling apart, were all achieved without any major issues. While we're not the fastest runners out there, we love the sense of adventure into the unknown. The unknown of what your body can accomplish and what you'll find on the trail both mentally and physically. Completing the loop meant a lot to me personally. I've dealt with a lot of running injuries in the last year, so knowing that my body can hold up to such a tough challenge was incredibly rewarding. If you're up for it, you've got to add the Four Pass loop to your list, as it was one of the most incredible trails I've had the pleasure of running.
Austin Corbett joined the Kahtoola team back in March as the Events & Community Engagement Associate. An Arizona native, Austin is an avid trail runner and founder of the Will Run for Beer Run Club based in Flagstaff. When he's not running, you'll probably find him out taking photos, working a trail race, or hiking with his dog, Luna. Currently, he is training for his first 100 mile trail race, the Javelina Jundred in late October.