5 Practical Tips for Getting Into—and Sticking With—Trail Running
5 Practical Tips for Getting Into—and Sticking With—Trail Running
With a few tips from our resident trail runners, you'll have the tools to make your entry into this fulfilling sport as successful and rewarding as possible
In a previous blog, we discussed trail running gear essentials for new trail runners with our trail running associates. Helping others enjoy the outdoors and find adventure is part of our mission to make the outdoors more accessible, but gear is only part of the equation.
To help you hit the ground running, we turned again to our trail running associates for some tips on embarking on your trail running adventure while staying also healthy and happy and making the experience as rewarding as possible.
Meet Your Personal Gear Guides
Our home base in Flagstaff, AZ is a trail runner's paradise. And we're lucky to have active members of this vibrant community working with us here at Kahtoola. Say hello to Emily and Austin!
Emily Snelson
Emily caught the trail running bug after moving to Flagstaff and seeing what a welcoming community and amazing athletes call this place home. Depending on the mood she's in, Emily loves either the quiet, therapeutic aspects of trail running or the social experiences it provides. Since beginning her journey, she's completed the epic TransRockies Run 6-day stage race three times.

Austin Corbett
Austin got into trail running as a way to regain a healthy lifestyle. Of all the ways to be active, he picked it because it allows him to see much more of the outdoors by moving faster and more efficiently. An active member of the Flagstaff trail running community, Austin started a popular local running club. His biggest accomplishment to date was his finish at the Javelina Jundred 100-miler.
Now Onto the Tips!
Although they're now experienced trail runners, Emily and Austin began as new trail runners and have learned—either through their own trial and error or from others—how to thrive out on the trail. Here are some of the highlights.
#1 – Start Slow & Be Consistent
Making the jump from hiking or walking to running can seem simple enough, but pushing things too hard, too early can put a damper on what should be a positive experience.
When starting out, our associates recommend taking it easy to avoid injury and keep your experience enjoyable.
"I think one of the biggest things I've noticed from those making the jump from hiking or road running to trail running is that they expect to have to run everything," notes Austin. "When really, most people aren't running every step of the way. So I would suggest taking it slow, walking the hills, and just expect to be slow—at least at first."
Like Austin, Emily started small, but over time, she's worked her way up to regularly running in multi-day stage races.
"I didn't really get into trail running until I moved to Flagstaff," says Emily. "I found a small park in town and just started very small with a mix of walking and running, with no real expectations other than to have fun. Don't be too hard on yourself in the beginning, a lot of people go through this same process."
Starting out small to avoid injury is key to getting a good start in trail running, and that goes hand in hand with building up your aerobic base. This can take time, so both Austin and Emily recommend staying consistent day to day and week to week over pushing yourself too hard, too early. At the same time, it's also good to step outside your comfort zone and challenge yourself once in a while. That's where our next tip comes in.
#2 – Engage With the Community
While many trail runners enjoy the solitude of being alone on the trail with only their thoughts, embracing your local trail running community has its advantages. Engaging with individuals and groups can help you stay motivated and challenged, meet like-minded people and make the trail running experience more rewarding.
One of the easiest and most fulfilling ways to engage with the trail running community is to join a local running club.
"The first group I joined was an all-ladies running group," remembers Emily. "Flagstaff has a lot of running groups so they inspired me to check out other ones as well and eventually I even started signing up for races."
If you're not ready for racing right away, Emily also suggests volunteering as a way to get your foot in the door.
"I don't know if it's for everyone, but I think volunteering at a race is a fun way to get submerged in the scene and there are some benefits to it as well," she says. "You might get credit for a future race and it's fun to help other runners and cheer them on!"
If you decide you like what you see, racing is a great way to challenge yourself, and few sports can boast as welcoming and supportive a race scene as trail running. Having a support network of other runners is an invaluable resource when you're new to trail running and have questions, need support or want to have others around to keep you accountable and help you challenge yourself. But there's no substitute for the motivation that comes from within.
#3 – Focus on the "Why"
When trying something new for the first time, there's often a learning curve, and progression isn't always linear. So when things get difficult, it's time to start focusing on why you're doing this in the first place. Is it for the freedom, the health benefits, the challenge or the thrill you get from pushing your limits? Everyone takes up trail running—and stays with it—for different reasons. And knowing your "Why" can help you through difficult situations.
"For me, trail running is more about the experience and enjoying what you're doing and less about the gear and your stats," says Austin. "Competing is fun sometimes, but the reason I really love trail running is the freedom to just go out and do whatever I want. And it's important to remember that."
Staying motivated and challenging yourself on your runs is key to pushing past a slump here and there. But Emily and Austin always keep safety and self-care front and center on every run.
#4 – Stay Safe & Take Care of Yourself
With all of the beautiful scenery and trails that are out there, it can sometimes be hard to remember to take care of yourself. You never know what you might encounter out on a run and you can end up quite far from home in what may seem like the blink of an eye.
For Emily, focusing on sleep as well as nutrition and hydration both on and off the trail is key, especially before, during and after a race.
"I think it is so important," she notes. "You might not realize the calories you're burning or the amount of energy you're losing as you run. So just be consistent with your fueling."
"Taking care of your body is a huge one for me," agrees Austin. "Treat your body well by eating good food, sleeping a lot and allowing it to recover."
Eating and drinking and keeping up with sleep will keep your energy levels up and your mind sharp, but one of the best ways to stay out of trouble on the trail is to always be aware of your surroundings.
"When you're running with your buddies, it's easy to get distracted by a conversation or mess with your watch," says Emily. "I've seen so many people take a tumble from being distracted by something simple like adjusting a piece of gear. You don't necessarily have to stop to do these things, but just be aware of what else is going on around you."
"If I listen to music while running, I just keep it to one ear," adds Austin. "It drives me nuts when I'm trying to pass someone and they can't hear me. It's also a safety issue, there could be an animal or a mountain biker behind you, or even someone trying to hurt you!"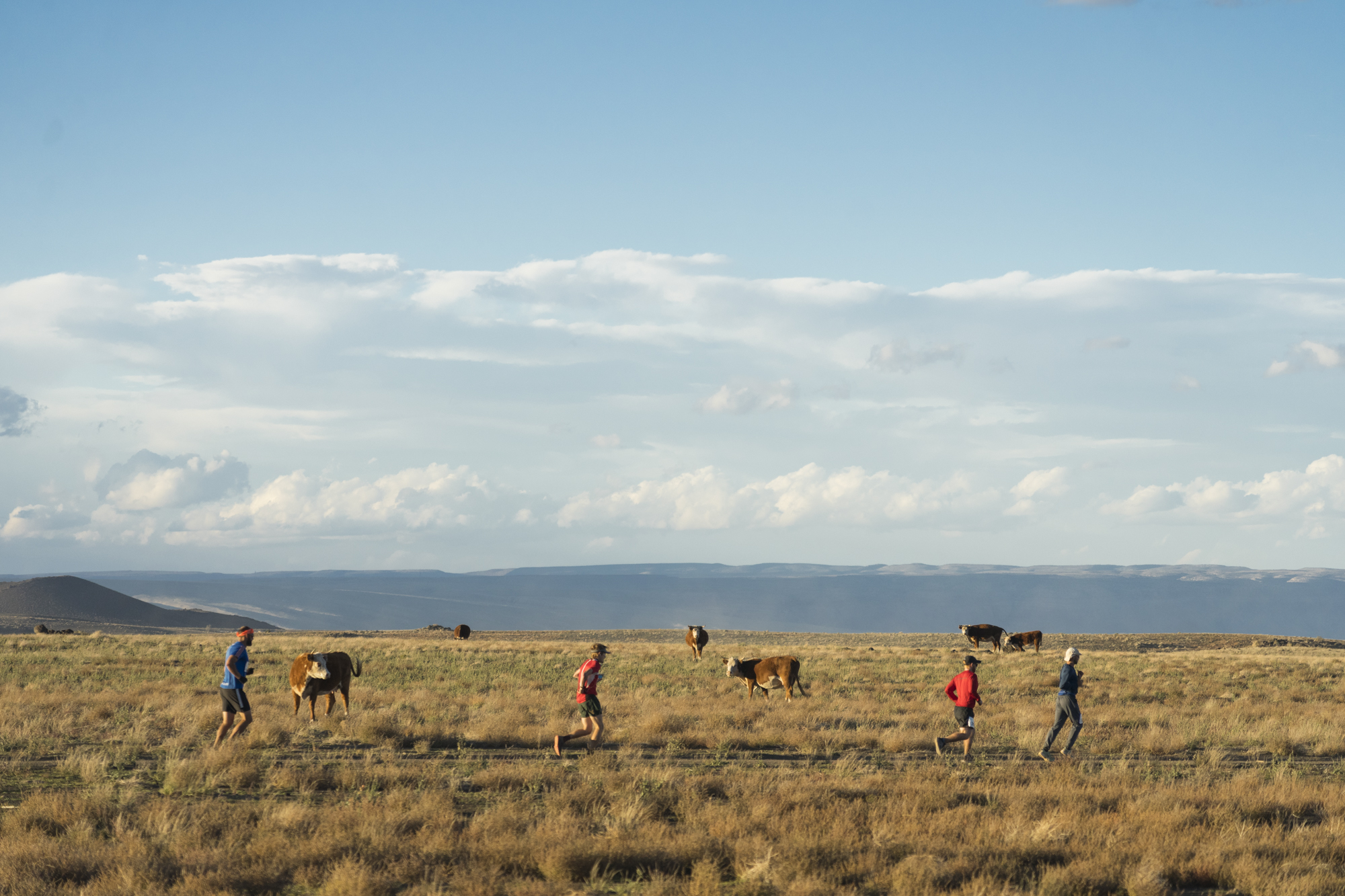 #5 – Play the Long Game
If you plan to be in the sport of trail running for the long term, take care of smaller injuries before they turn into something bigger. And remember that if they do, rushing back out onto the trail often only makes things worse.
"Having a good chiropractor or physiotherapist you can rely on provides a lot of peace of mind," suggests Emily. "That way, if you've been running on a slight injury and aren't sure if you should continue, you have professionals you can go to. Maybe all you need is an adjustment or some strength training for a muscle imbalance, for example."
And if those aches and pains turn out to be something bigger, it might be time to get off your feet and rest. You might lose some fitness temporarily, but it might help get you back on your feet faster in the long run than exacerbating injuries.
This is Only the Beginning
There you have it! Practical, actionable tips that you can use to avoid injury, challenge yourself and stay safe during the early part of your trail running journey. No doubt, there are sure to be a few stumbling blocks along the way, but if you start slow, stay consistent, engage with the community, focus on your "Why," take care of yourself, and consider the long game, trail running can be a rewarding activity that will help make you happier and healthier for many years to come.