Father and Son are Making the Pacific Crest Trail Safer—and More Accessible
Father and Son are Making the Pacific Crest Trail Safer—and More Accessible
"Whenever you're reading this, if you're reading this, and regardless of whatever happened: wow, all of these years of planning have culminated into the most ballsy challenge I could have ever imagined. Tonight, specifically, has cemented the reality and responsibilities of my impending fate. I hope I've achieved my goal of Crater Lake and maybe more. But if it is for deserved injury or quitting on a bad day, then it is time to reassess the commitments that you make to yourself. Regret lasts forever. If this isn't the case, however, I hope this experience was greater than anything that you could have ever imagined. A past me making habitual marks on the page from the other side of metamorphosis, you."
Written in March of 2020, this was the last journal entry Trevor Laher made before he set out on what was to be a transformative experience. Trevor was an avid hiker, and at 22 years old, and fresh out of college, he had set his sights on completing a large portion of the legendary 2,650 mile (4,265 kilometers) long Pacific Crest Trail (PCT). Made almost a household name by the film Wild, in which Reese Witherspoon embarks on the trail in an effort to put her spiraling life back together, the trail extends south to north across the western United States from Mexico to Canada.
When Trevor began his hike that March, he wasn't planning to make it all the way to the Canadian border. He had a job lined up at Microsoft and was looking forward to starting it that July. Trevor's shortened timeline meant that he would have to end his hike early with a goal of finishing at Crater Lake, Oregon, but that meant he still planned to be on the trail for more than 100 days.
Like many others, Trevor began his PCT adventure at the Campo Trailhead near the Mexico/US border, and apart from the chaos surrounding the early days of COVID-19, his first ten days on the trail were going well. But on day eleven, on the heels of a snowstorm, Trevor set out on what would be his final day on the PCT. That day, the trail would take him toward Apache, and he wasn't alone—he had met two other hikers on the trail, Cody and Jannek, and they had all set out together.
As the three friends approached Apache Peak, an icy slope that had been obscured by the previous night's snow stood in their way. They made the decision to press on as avoiding that section of trail would mean turning back. As they crossed, Trevor slipped and was sent tumbling down a rocky chute and out of sight. Cody and Jannek lashed themselves to nearby trees as best they could and called for help on a satellite communicator. But, by the time search and rescue arrived, there was nothing they could do for Trevor.
What Went Wrong?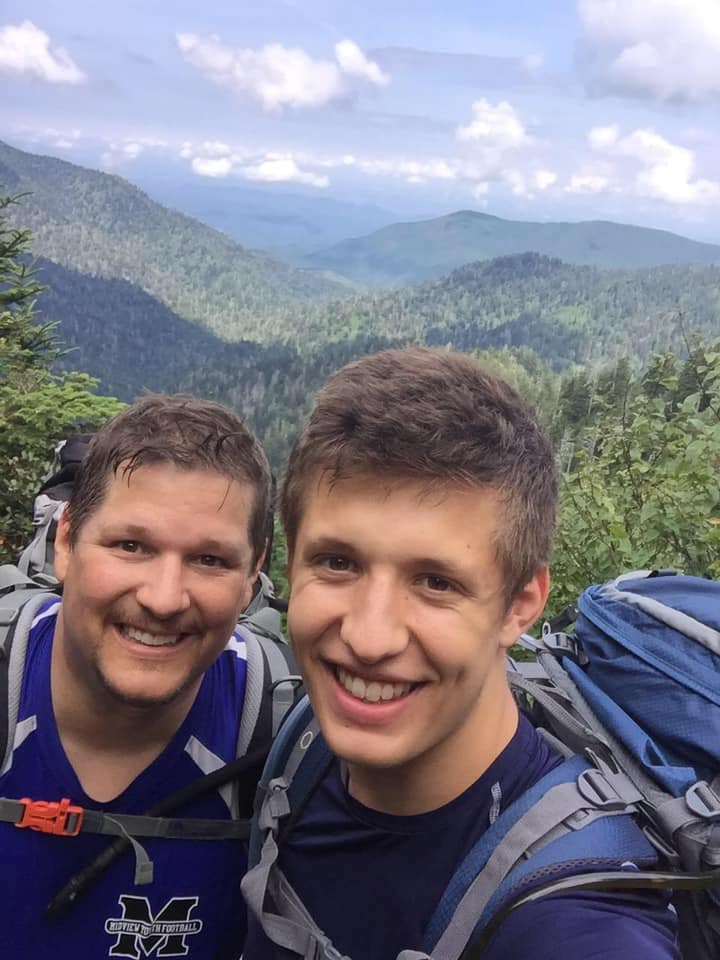 Prior to setting out on the PCT, Trevor was a fit and accomplished hiker. In preparation for the thru-hike, he and his father Doug Laher had spent countless hours making meticulous preparations. They agonized over what gear to bring and poured over route descriptions and trail reports from other hikers.
Unfortunately, Apache Peak had been closed due to wildfire risk for several years prior, which meant that, in the spring of 2020, there were precious few reports available for that portion of the trail.
The snowstorm Trevor would later encounter caught everyone by surprise. He and Doug had even planned for there to be snow and ice along the route, just not that early. In fact, Trevor had MICROspikes® and an ice axe waiting for him, only one day away, at his next resupply point in Idyllwild, California. And in the days leading up to that fateful day under Apache Peak, there was little reason for Trevor to believe he would encounter poor weather conditions.
"[Trevor] had lots and lots of hiking experience, but practically no mountaineering experience," reflects Doug, "And so when he saw this really, really steep section of trail, the trail was buried within the snow. I'm sure all they may have been able to see were some indentations that looked like footprints from the day before. I just think that he felt like I'm a 22-year-old kid, I'm in the shape of my life. I think that he probably figured, 'if I fall, I'll be able to stop myself'. It's so tragic, that this could have been avoided."
Finding a Sense of Purpose in the Pain
In the aftermath of Trevor's accident, Doug and his wife Karen were devastated. It wasn't until Doug started sharing Trevor's story that things started to turn around for him. Not long after Trevor's accident, Doug authored a blog about the accident for the Pacific Crest Trail Association (PCTA) and was interviewed for a feature article for Alta magazine. The combined response from readers was overwhelming. In fact, the Alta article was the most-read piece on their site of the last five years.
Soon after the articles were published, Doug was inundated with phone calls and emails—at one point receiving 300 a day. Most of them were from people reaching out to tell him how Trevor's story had changed the way they approached their hikes, for the better.
"I felt like that was a turning point for me," recalls Doug, "I remember crawling into bed one night—for the first time happy. And I remember having a very open conversation with Trevor that night, telling him that I finally feel like I'm turning a corner because I could see his story making a difference."
After reading Trevor's story, hikers preparing for the PCT were taking the time to sit down with loved ones to talk about safety and were taking a hard second look at how they planned to approach the trail.
"That's when it made a difference for me, that was my aha moment," says Doug.
One reader's story, in particular, gave Doug goosebumps when he heard it. A woman who had started her PCT hike late in the season wrote Doug to tell him how Trevor's story may have saved her life.
"She was 30 miles away from the Canadian border and got stuck in a terrible, terrible snowstorm," says Doug, "And, of course, she had border fever. All she could think about was putting in those last 30 miles, and she said 'I felt like Trevor landed on my shoulder and whispered to me that this is not the right move. Come back and fight another day. This last 30 miles will be here for you next year.' And so she called her hike…Those are the stories that really get me excited."
From that point on, Doug made it his mission to spread Trevor's story and help as many people as he could complete their PCT journey safely. But it was important to Doug that pointing out the potential pitfalls and hazards of the PCT didn't deter people from the experience. Doug knew the positive effects these adventures could have—an important lesson he had learned from Trevor.
Embracing the Outdoors
Trevor loved the outdoors. According to Doug, he had spent much of his life preparing—whether he was aware of it or not—mentally and physically for the PCT. He was an avid hiker, rock climber and runner and spent more time than most reflecting on his outdoor adventures. That love of the outdoors is what drew Trevor to the PCT, and at first, Doug didn't understand Trevor's near-obsession with the trail. But, over time, he came to appreciate what Trevor saw in it and would become his biggest supporter.
"I did not 'love' hiking, but he [Trevor] loved it," remarks Doug, "And I loved being with my son, so if that meant we were going to spend quality time together outdoors, backcountry hiking and camping, then that's what we were going to do."
And that love for the outdoors was obvious, not just to Doug, but to his friends as well.
"At Trevor's celebration of life, one of his friends got up and spoke and said some really profound words," remembers Doug, "He said, Trevor absolutely adored being outdoors. And he loved the endorphin rush of a really punishing climb to a summit. He told me that when Trevor would be on a summit he'd look at it and feel like he could see the soul of the planet. And his friend said, 'if you've never experienced that, you've got to do it for Trevor because it's magical.'"
Trevor's Trek
Trevor's ability to share his love for the natural world with others is something Doug and his family want to be part of his legacy. Along with Doug's efforts to make the PCT more accessible by making it safer, his wife Karen, daughter Olivia and sister-in-law Joann are encouraging others to get outside annually on what they call Trevor's 100 Day Trek. The 100 days refers to the time Trevor had planned to spend on the PCT and their goal is to get people outside 100 days in a row. They hope Trevor's story will inspire others with the same love he had for being outside, and each activity can be something as simple as a walk around the block.
"Last year we had 300 people that were part of it," boasts Doug, "We even had probably 20-30 people from outside the US who followed along because they were aware of Trevor's story. And I kid you not, every day for 100 days, my wife and I walked at least two miles."
A Shared Passion
Trevor's story isn't unlike that of Kahtoola's Founder and Owner, Danny Giovale. Both benefited immensely from their time in the outdoors and the transformational experience that pushing a person's limits can have. And their experiences have turned them into advocates—each in their own way—for making the outdoors more accessible by making it safer.
Danny's quest began in the early 1990s when he slipped after descending off of a climb in the Italian Dolomites. He was sent careening down a steep slope and was lucky to escape with his life. While falling, Danny was confronted with the horror his family and friends would have to endure if he was to die that day. He didn't want anyone else to suffer the pain of that experience and walked away feeling immense gratitude for being alive.
"When I hear Doug tell Trevor's story, it's like looking through from the other side of the veil for me," says Danny, "Doug is living that experience that my family almost had to live. And that hits close to home because Trevor and I were about the same age [22] when we had our accidents."
Like Trevor, Danny knew the positive effect that time in the outdoors can have on people, so over the next few years, he made it his mission to make those experiences safer. It began with designing and manufacturing Kahtoola's KTS hiking crampon and has since grown into producing a line of traction products that are making the outdoors more accessible.
"Safety is the essential component of all of this," notes Danny, "But for me, enabling people to go on these adventures is the real fuel that gets me excited. I love it."
Trevor Spikes—Making the Outdoors More Accessible
Eventually, Danny and Doug's passion for helping others live life to the fullest would bring them together.
"I felt like I had begun to exhaust some of my avenues from an advocacy standpoint and education standpoint," admits Doug, "In writing and on podcasts, I was telling Trevor's story but I started to think that now I've got to take it a step further."
So, Doug reached out to Danny to share Trevor's story and to exchange ideas for making the PCT safer and more accessible. Doug didn't know what would come out of that conversation, but he quickly found that Danny and Trevor had a lot in common: a love for embracing outdoor adventure and an accident that had set off a mission to help others embrace their own adventures safely. What Doug did know was that MICROspikes® could be instrumental in making the trail safer.
"When I reached out to Danny I said, 'Hey, I'm a grieving father who wants to find a way to help people, and I think that your product [MICROspikes®] helps save lives," recalls Doug.
Doug was first introduced to MICROspikes® when he was helping Trevor purchase equipment for the PCT. Unfortunately, Trevor didn't have them when he needed them most, but Doug was determined to help others avoid that outcome. Not long after his conversation with Danny, that determination led to the founding of the Trevor Spikes program. Trevor Spikes is the manifestation of Doug's desire to take Trevor's legacy to the next level by help others embrace the PCT safely.
Through the program, Doug has partnered with Kahtoola, among others, and is working to get high-performance, reliable traction into the hands of PCT hikers where and when they need it. To make this as convenient as possible, the program delivers discounted MICROspikes® to hikers via the Paradise Valley Cafe, a restaurant in Mountain Center, CA and the last resupply stop along the PCT before hikers reach Apache Peak.
The Trevor Spikes Program began in 2021, and that year it helped make the PCT safer for many hikers as they set out on one of North America's greatest adventures. The program is back in 2022 and Doug is hopeful it will be able to help even more adventurers.
"The Trevor Spikes Program has been incredible because now it's not just about hiker education, we're actually doing something to make the trail safer," says Doug, " We're putting traction devices into the hands of hikers. It's safety when you need it, where you need it, and it's a beautiful program that's extremely convenient for hikers."
Danny believes that proper planning is essential to giving PCT hikers peace of mind, so they can make the most of what is sure to be the experience of a lifetime.
"One of my main messages is don't compromise safety at the expense of a few ounces. Every year is different—a spring season one year can be colder and last longer than the year before. You've got to be careful taking another person's experience and assuming that can transfer over to your own. So you've got to be prepared."
Trevor's Gift
For Trevor Laher, few things could compare to being outdoors. And even though he's not able to spread his love for adventure with others directly, his family has taken over the mantle. They could have easily decided to advocate for safety by exposing the dangers of the PCT and telling people to stay away. But instead, they've chosen to make it more accessible by doing what they can to make it safer through information, and now, the proper gear.
"I tell people that the greatest gift that Trevor ever gave me didn't come until after his accident because he's given me the gift of purpose," says Doug, "And this is my purpose in life now—to try and help others and save lives. And I'm very grateful for the opportunity to be able to do that. It's Trevor's story. I'm just the storyteller."